International Coatings Offers Special-Effects Screen-Printing Video
International Coatings, Cerritos, Calif., recently debuted another "Gellusion" special-effects screen-printing video, this time showing its inks in a 3-D print featuring kaleidoscope glasses.
"One morning about 25 years ago, I awoke from a dream in which I was designing a lenticular design containing different colors that could be seen from different angles, each showing a field of a different color depending on the angle viewed," says Kieth Stevens, Western regional sales manager, International Coatings. "I wrote down my vision of what I named 'kaleidoscope,' and worked with an artist later to come up with the 'pie-chart' color idea."
Each pie-chart in the video, shown above, can be placed facing the same way or slightly varied to add interest. The video showcases the Gellusion special-effects recipe, which creates a domed high-density print — in this case, in the shape of dots. Each dot has three colors printed on it in the kaleidoscope design.
The resulting illusion is different depending on the kaleidoscope arrangement and the angle from which it is viewed. — J.L.
---
International Coatings Company has introduced its newly reformulated General Purpose Color Series (7600 Series).
FULL STORY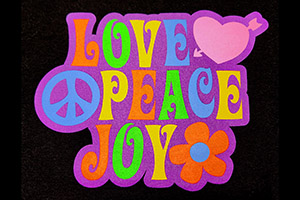 Lee Stuart, entrepreneur and YouTube creator, has added his spin to the Ryonet Riley Hopkins 250 6×4 Press and Multi-Station Press Cart.
FULL STORY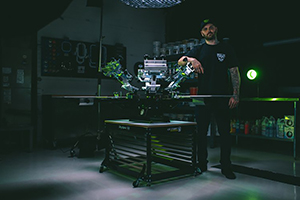 Long-time industry expert and Impressions magazine contributor Charlie Taublieb has released a new book, The Screen Printers Handbook & Survival Guide.
FULL STORY