Vastex Breaks Ground on New Headquarters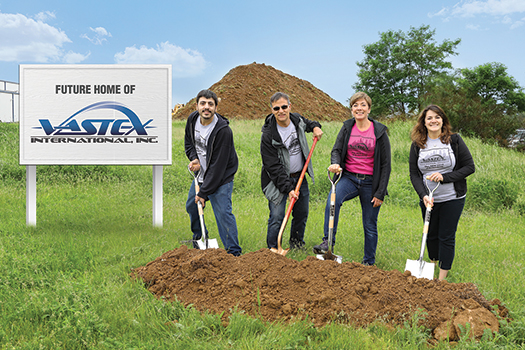 The Vasilantone family breaks ground on a new world headquarters facility for Vastex Intl. From left, Michael Vasilantone, Mark Vasilantone, Cindy Vasilantone and Devyn Vasilantone Orozco.
---
Vastex Intl., Allentown, Pa., has broken ground on its new corporate headquarters, a 37,500-square-foot facility to be located in Bethlehem, Pa.
The manufacturing portion of the purpose-built facility will house inventory, metalworking, electrical, assembly and shipping, with the remaining space devoted to offices, a showroom and a large, hands-on classroom area with a full complement of screen-printing equipment for Vastex University, the company's training program for entry-level to professional screen printers.
"The new facility will enable us to streamline our manufacturing processes, increase our research-and-development efforts, and provide a state-of-the-art training facility for both new and experienced screen printers," says Mark Vasilantone, president, Vastex Intl.
The 8.25-acre campus provides Vastex the ability to double the size of its building.
The company's patented innovations include the dual rotary printing press (where the pallets and print heads both rotate), the four-way stretch holddown for printing jackets and dual-layer fabrics, and the air-recirculation system for dryers. Other inventions include the first small-product electric infrared dryer, a patented belt-alignment/tracking device, and a small mechanical squeegee, according to the company.
"The investment in our expandable facility will strengthen our ability to meet the fast-growing worldwide demand for Vastex precision screen-printing equipment," Vasilantone says. — J.L.
---
International Coatings Company has introduced its newly reformulated General Purpose Color Series (7600 Series).
FULL STORY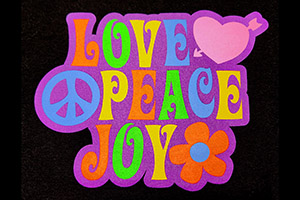 Lee Stuart, entrepreneur and YouTube creator, has added his spin to the Ryonet Riley Hopkins 250 6×4 Press and Multi-Station Press Cart.
FULL STORY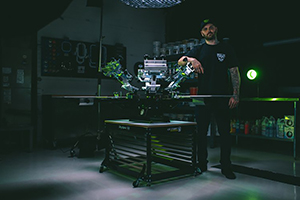 Long-time industry expert and Impressions magazine contributor Charlie Taublieb has released a new book, The Screen Printers Handbook & Survival Guide.
FULL STORY