A Womenswear Decoration Primer
Try these tips for designing and printing on lightweight ladies garments.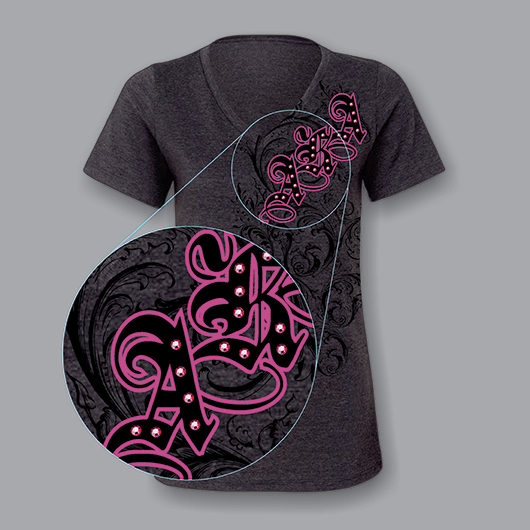 Water-based ink has a soft feel when printed, is easy to clean up with water and provides a great background print for additional special effects.
---
Garments are always evolving, a fact that is dramatically evident in the ladies, juniors and girls categories. New fabrics, weaves, treatments and different constructions all have become the norm in ladies apparel. In particular, the average fabric weight of the garments also has changed, as there is more demand for lighter weight fabrics that are more transparent and softer.
On the other hand, these lighter garments tend to present more challenges in printing production. There are art, screen and printing considerations with these fabrics that are important if you want to create a quality finished product that will maintain durability and have good visual appeal.
A tour of the ladies, juniors and girls sections in retail stores quickly will show you how much the standard T-shirt has lost weight and opacity in the past few years. Many of the garments are nearly transparent and most have a variety of treatments applied to them. Changes to the fabric content itself also must be considered. Standard inks may not adhere as well to burnout shirts, where some of the cotton content has been melted away due to a chemical process.
Some of these fabrics also are made with stretchy fibers like Lycra or spandex to be more form fitting. Even if its label doesn't show such content, the garment may be more heat sensitive than the average T-shirt and require special handling to avoid damage. The best practice is always to check with the manufacturer prior to decoration to ensure the process you are using will be safe for the product. You also should ask whether any specific considerations should be made to avoid heat, ink or handling issues.
ART CONCERNS
The art issues for womenswear involve controlling the total ink volume and maximizing the softness of the T-shirt. If you start with a standard design, you may need to be cautious if the image area will necessitate a lot of ink on a lightweight garment.
To control this issue, you can use a variety of methods depending on how the final product will be used. One of the most popular solutions for controlling a large imprint area is breaking the design up using a distressed texture or a pattern. This allows the shirt to breathe and enables the print area to be more flexible and less likely to be uncomfortable for the wearer.
A design solution for controlling ink volume may involve revising the artwork to a greater degree using outlines or gradient fills instead of solid fills. These edits will need customer approval and can affect the final look of the design. This means they are less common and are best used when the design is being developed rather than during the production phase.
Art can be used as a creative solution to help avoid a heavy print if the design can become a vintage one that already lends itself to the distressed look. In addition to distressing or breaking up the vintage design, an interesting print location or size also will help direct the viewer's focus away from an ink coverage issue by making the whole product more visually interesting.
SCREEN & INK CONCERNS
Considering the ink volume and overall feel of the printed design at the initial art development stage will provide a great head start on minimizing issues later as production starts. The ink type used during the screen printing process has a dramatic effect on the final product's feel. For the softest print, a lighter weight garment that it mostly cotton can use water-based ink. The advantage of using this ink type on cotton garments is that it tends to sink into the garment's fibers like a dye rather than sit on top of the surface and create extra texture.
There are specific qualities and limitations of water-based inks for screen printing. Decorators should consider these factors if they haven't used water-based inks before. For example, these inks enable soft prints, are easy to clean up with water and provide great background prints for additional special effects, like glitter, rhinestones, etc.
The limitations of water-based inks include: more difficult handling and printing (tends to dry into small areas in the screen); lower opacity, so it doesn't cover well on dark garments unless it is printed using a discharge agent (discharge ink will bleach out the dye in some dark garments); and it works best on garments with cotton content to absorb it into the fibers. Some special elements are needed to print water-based inks well, including hardener (needed for the screen emulsion to keep the water in the ink from breaking down the stencil) and different ink modifiers (for helping to keep ink from drying into the screen or for creating a discharge print).
On lighter weight dark garments, it is crucial that water-based discharge prints be tested and that the manufacturer has approved the product for discharge. Otherwise, the dye in the garments may not release or may produce totally unpredictable results. The more treatments that have been applied to a garment, the less likely it is the fabric will be discharge friendly. For this reason, it sometimes is preferable to print a garment prior to doing an additional fabric treatment if the discharge process is needed.
A final note on water-based inks: Synthetic fibers in the garments typically will not work well with a water-based print, as the fabric cannot absorb the ink. On garments that are composed of nylon, Lycra or spandex, it is best to research and find a better process like heat pressing or printing the garments with ink that will properly adhere to the fabric.
For garments with synthetic fibers, one alternative is to use an ink additive with traditional plastisols that makes them less opaque and results in a softer surface. Your ink supplier will have information on different additives that you can combine with your current stock. Depending on your current ink's composition, you may need a modifier or a different ink base to get the desired look and feel.
It is important to test the modified inks to ensure they have the expected look, feel and durability. A modified standard ink sometimes will become significantly different in opacity and not be nearly as durable after multiple washes. So make sure you can do the right amount of modification that will provide the desired effect without adversely affecting the final products. The adjusted ink also will tend to be lower in viscosity, so you may need to use a higher mesh count or increase print speed to avoid bleeding.
PRINTING CHALLENGES
There are exceptions to every rule in printing. It wouldn't be surprising to find heavy prints on lighter weight garments in a retail setting, even though they would be uncomfortable. If you're a custom decorator, the concern is that you are trying to build a long-term relationship with a client, so each order is a reflection of you. A retailer only has to sell one garment to an individual client, but the custom decorator has an ongoing dialog with a customer who will have a volume of printed garments.
In the volume environment, if a garment is printed with a heavy, uncomfortable print, it will result in negative feedback for future orders. Sometimes a special effect, such as glitter, foil or a combination of water-based ink and a heat press application, will provide a such a suitable look that a client will shrug off the uncomfortable elements due to excitement over the bling. In these exceptions, it always is important to remember that such is the client's choice. He just has to be willing to accept the overall feel.
The majority of customers always will gravitate toward comfortable garments for repeat wear. A great way to control the feel of a print on lightweight garments is to have a clear standard of printing on these delicate fabrics. If your company hasn't established printing guidelines for lighter fabrics compared to standard-weight T-shirts, such should be your first priority. A couple of test runs will demonstrate how the print feels using different variables.
One quick sample print will show the difference in feel between water-based and standard plastisol prints. Use your company's logo or a popular graphic as a test print so you can use the screens as promotional items as well. You also can use these items in sales presentations to clients to help justify a price increase for water-based or modified inks.
Next, do a printed test using a higher mesh count with traditional inks to achieve a standard print without the ink volume. In this test, the goal should be to get quality coverage and a smooth print, but with thinner ink coverage so it doesn't weigh down the garment.
Once you have a standard of printing for lighter fabrics, you also can consider specialty fabric treatments so you will be prepared if you have a rush request for these popular items. You also won't have to guess at how to decorate them or have a serious problem trying to print them. The following example resulted from a real job that, unfortunately, happens to a lot of screen printers (the specific printer in this instance shall remain anonymous).
"ABC Printing" employees had a rush order on a lightweight, burnout cotton item and they ran the garment like a standard T-shirt. The garment was extra sensitive to heat, so a dozen of them were scorched and became brittle under the flash cure. The resulting shirts were brown in certain spots or had a permanent square mark from the platen and became crunchy.
Since the garments were thin, and were printed with regular mesh counts and standard pressure settings, the ink bled through to the platens and the next round of garments were stained with ink on the insides and sleeves during loading. Due to the treatment on the garments, the printers were unable to blow out the ink using a spot remover without ruining the fabric.
These items were about three times the cost of a regular garment, so the printer ended up losing money after having to replace a large part of the order.
All the issues in this real example could have been avoided by having better printing standards in place for that specific fabric type. As a result of this experience, ABC Printing now checks its mesh counts, flash distances and ink volume prior to production for all garments that are lighter in weight.
The key to success is establishing guidelines for art, screen and production challenges before a rush job comes in at the last minute. That way, the popular, lightweight ladies apparel will come out fantastic on the first run.
Thomas Trimingham has been working in screen printing for more than 21 years as an industry consultant, freelance artist, and high-end separator. He is an award-winning illustrator, designer, and author of more than 110 articles on screen printing art and separations. For more information, visit screenprintingartist.com.
---
Avoiding problems early on in your color separations will cascade down into gains at every step of the screen-printing process.
FULL STORY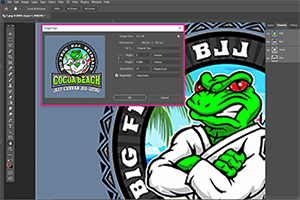 T-shirt screen-printing veterans Danny Gruninger, of Denver, Colorado, based DayBirds Printing, and Rick Roth, founder of New England's Mirror Image Screenprinting & Embroidery and Ink Kitchen, talk fast, efficient setups as part of the Shop Talk education series at the 2022 Impressions Expo in Fort Worth, Texas
FULL STORY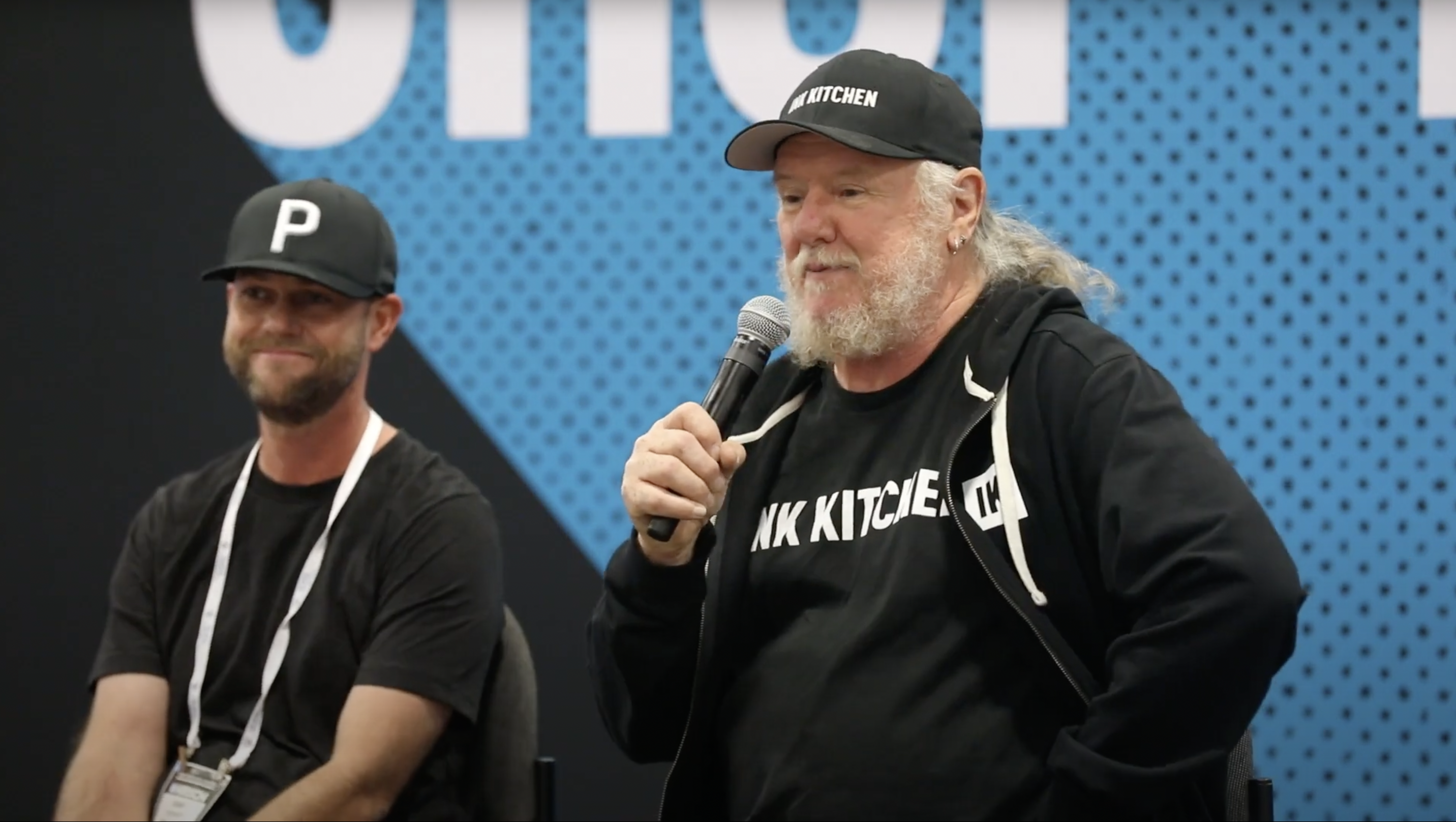 Garment decorators always are looking for ways to create special effects (SFX) with their screen-printed designs by offering specialty inks — puff, glitter, suede, shimmer, high-density and more — to keep their artwork on the cutting edge.
FULL STORY