The Apparel Printing Industry's Future Leaders
A look inside the SkillsUSA National Screen-Printing and Sublimation competitions.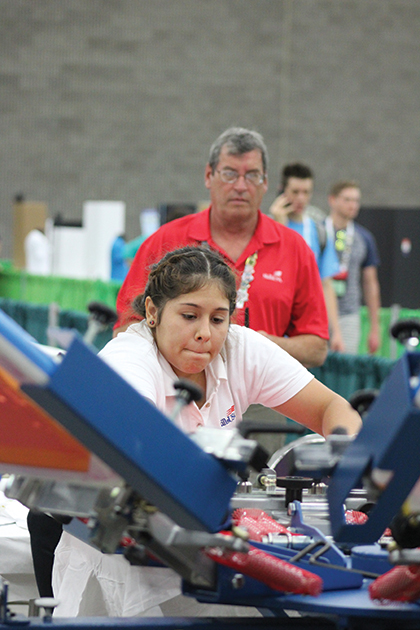 Kimberly Patino, North Garland High School, Garland, Texas, placed third in the secondary screen-printing competition. Photo courtesy of Alx Eller.
---
Twelve years ago, Jesse Hudson — a college administrator — asked if I could help develop a textile screen-printing curriculum for secondary and
post-secondary schools to be used at the SkillsUSA state and national screen-printing competitions.
SkillsUSA is a national career and technical organization that holds state and national competitions covering a multitude of vocations, including automotive, culinary arts, cosmetology, woodworking and more. The organization is a partnership among students, teachers and industry members with the common goal of ensuring America has a skilled workforce.
Hudson clarified that there wasn't a textile screen-printing competition at SkillsUSA at that point. But with the help of HIX Corp., which donated printing equipment, and the hard work of numerous college instructors, Hudson set the wheels in motion and presented a sample screen-printing competition at the 2005 SkillsUSA conference in Kansas City. This represented textile screen printing's introduction to SkillsUSA as a possible national competition.
Hudson continued to be the screen-printing competition chairman for SkillsUSA through 2013, until officially handing the reins to the Specialty Graphic Imaging Association (SGIA) in 2014 and making Johnny Shell, vice president of technical services, SGIA, the new contest chair for the competition.
"Johnny has done a great job recruiting industry experts, including members of the ASPDT (Academy of Screen Print and Digital Technologies) and representatives from the screen-printing industry to help judge and run the annual competition, " Hudson says.
Today, SkillsUSA also includes a Graphic Imaging-Sublimation category that is open to competitors, in addition to the Screen Printing category.
Each state has a SkillsUSA director that helps coordinate local screen-printing and sublimation competitions, along with aid from educators and regional volunteers. The state competition's first-place winner advances to the national competition, held annually in Louisville, Kentucky.
The Screen-Printing Contest
The textile screen-printing competition consists of a written test, hands-on T-shirt printing, quality-control, screen-coating and screen-exposure competitions. Students also take part in a mock job interview, during which they present résumés and are interviewed by judges as if they were seeking employment. The job-interview segment is a vital part of the competition that helps prepare students for what will be expected of them when they apply for jobs after graduation.
"Whether or not these students choose screen printing as a vocation is not nearly as important as what the program does to help them develop a professional attitude and to learn leadership skills that will be vital to them when they enter the workforce," Hudson says.
Bryan Schaffner, an instructor at Waynesville Career Center in Missouri, agrees. "The Missouri State SkillsUSA competition tries to mirror the national competition as much as possible to prepare students for what they will be tested on at the national level," he says. "SkillsUSA is the best thing a career tech student has going for them."
SGIA also allows Schaffner's students to become SGIA members — for two years while they are in school and another two years, for free, after graduating — since he is an education member of the association.
"The screen-printing and graphic-imaging sublimation competitions have benefitted greatly from the partnership with SGIA, along with the leadership of Johnny Shell and industry partners, to bring aboard prizes that are first-class," Schaffner adds. "The Waynesville Career Center has had several students who have medaled at this competition and this has been a life-changing event for them. Placing first, second or third in the nation is a big honor and looks good on the students' résumé when they are out job hunting after school."
The Sublimation Contest
The SkillsUSA competition's sublimation portion tests the students on real-world application of that particular decoration process.
"[The students] start with the design portion of the process, thinking about how their designs will affect the outcome of the completed process, and [they] take that design all the way through [to production]," according to Aaron Montgomery, an industry consultant and co-host of the 2 Regular Guys Podcast. "They print the transfers, apply them with heat to the substrates they were being tested on, and then also assess other products in a quality-control environment."
The students are judged based on whether their final products are salable and how they could best help in a real-world production environment.
"The 2017 version of the SkillsUSA graphic-imaging sublimation competition featured some amazing young men and women," says Montgomery. "They all took a great deal of pride in the craft. It showed, as it was extremely difficult to judge due the high level of competency they all showed."
Going National
The SGIA members and staff welcomed 40 secondary and post-secondary students to the graphic-imaging sublimation and screen-printing competitions at the 2017 SkillsUSA National Leadership and Skills Conference (NLSC) in Louisville, Kentucky. Students represented 35 schools from around the United States and contests were organized with the help of industry and trade associations, as well as labor organizations, to test pertinent competencies. Students participated in either the secondary (high school or vocational school) or post-secondary (college, technical school, etc.) divisions.
Shell chaired the committees that oversaw the screen-printing technology and graphic-
imaging sublimation competitions. In addition to setting up and judging the competition, SGIA members provided more than $74,000 in prizes for the winners and their schools.
"SGIA supports SkillsUSA because these students are the future of our industry," Shell says. "We're grateful to the members who back this effort as judges and prize donors. Students train year-round for the opportunity to compete, and we would not be able to run the competition for these dedicated students without the help from donors."
This annual national competition typically attracts more than 6,000 career and technical education students — all state-contest winners — to 100 distinct, hands-on trade technical and leadership competitions. SGIA member companies that volunteered or donated prizes include: BBC Industries Inc./Black Body, ChromaLuxe/Unisub, Condé Systems, Easiway Systems Inc., GraphicElephants.com, Great Dane Graphics, Impressions magazine, International Coatings, KIWO (Kissel & Wolf GmbH), The M&R Cos., NEWMAN ROLLER FRAMES mfg. by Stretch Devices, Wilflex Ink/PolyOne Corp., Ryonet, Sawgrass, StahlsTV.com and Vastex Intl.
One of the toughest parts of running a textile screen-printing or sublimation business is the task of finding skilled production employees. With the help of SGIA and SkillsUSA, there now is a platform to bring these industries and education together.
The 2018 National Leadership and Skills Conference will be held June 25-29 in Louisville. For more information on SkillsUSA, visit skillsusa.org.
James Ortolani has more than 30 years of experience in the decorated apparel industry, specializing in hands-on direct screen printing and heat-transfer production. He currently works for PolyOne Corp. For more information or to comment on this article, email James at james.ortolani@polyone.com.
Championship Circle
Congratulations to the following SkillsUSA winners:
Graphic Imaging-Sublimation (Secondary)
1st place: Jacob Barber, Harris County High School,
Hamilton, Georgia
2nd place: Kalani Ferguson, Waynesville Career Center,
Waynesville, Missouri
3rd place: Mattie Egly, Lawrence County High School,
Lawrenceburg, Tennessee
Graphic Imaging-Sublimation (Post-Secondary)
1st place: Megan Moore, Riverside Community College,
Riverside, California
2nd place: Katelyn Logsdon, Illinois Central College,
East Peoria, Illinois
Screen Printing (Secondary)
1st place: Jaxton Winder, Hurricane High School,
Hurricane, Utah
2nd place: Katie Meyer, Slinger High School,
Slinger, Wisconsin
3rd place: Kimberly Patino, North Garland High School,
Garland, Texas
Screen Printing (Post-Secondary)
1st place: Morgan Hofheins,
Salt Lake Community College, Salt Lake City
2nd place: Jessica Cupples,
Illinois Central College, East Peoria, Illinois
3rd place: Sierra Kelso,
Catawba Valley Community College, Hickory, North Carolina
---
Avoiding problems early on in your color separations will cascade down into gains at every step of the screen-printing process.
FULL STORY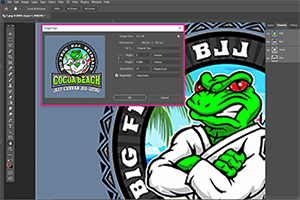 T-shirt screen-printing veterans Danny Gruninger, of Denver, Colorado, based DayBirds Printing, and Rick Roth, founder of New England's Mirror Image Screenprinting & Embroidery and Ink Kitchen, talk fast, efficient setups as part of the Shop Talk education series at the 2022 Impressions Expo in Fort Worth, Texas
FULL STORY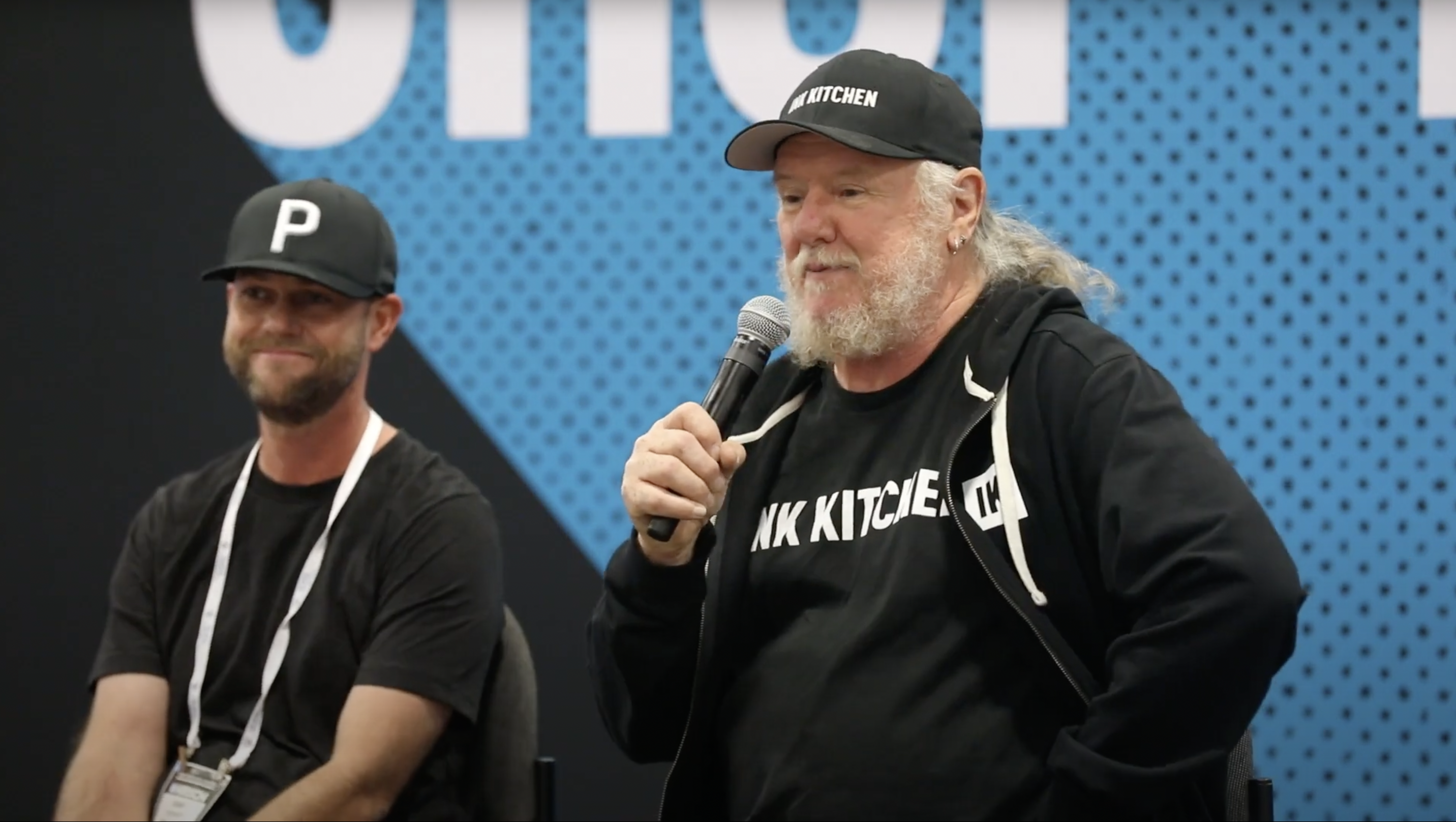 Garment decorators always are looking for ways to create special effects (SFX) with their screen-printed designs by offering specialty inks — puff, glitter, suede, shimmer, high-density and more — to keep their artwork on the cutting edge.
FULL STORY