Options for Apparel Decorators on Numbering Athletic Uniforms
Apparel decorators can service the traditionally lucrative team-sports niche by applying numbers to uniforms in a variety of ways. What makes the most sense for your screen printing business?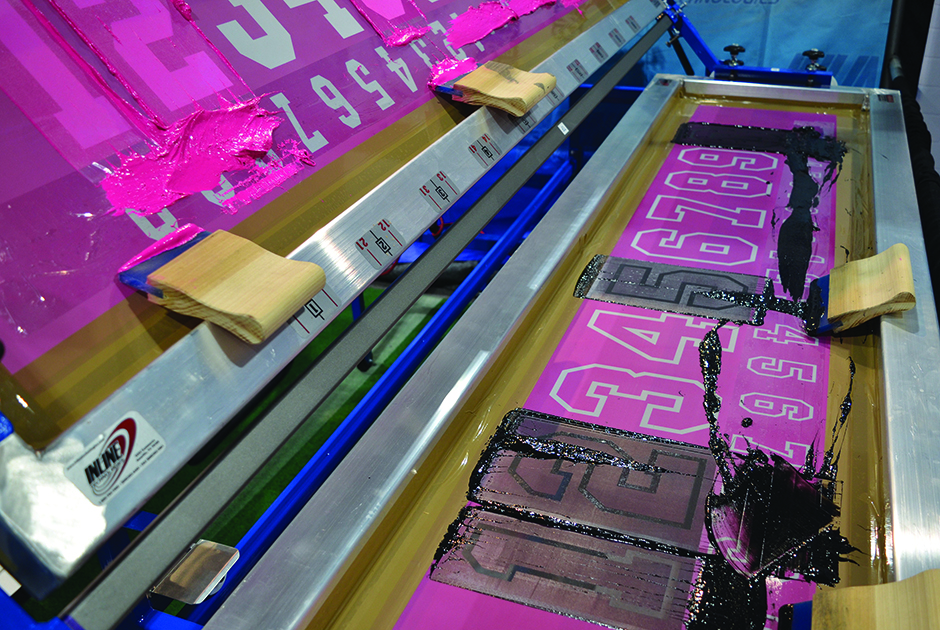 This manual athletic-numbering machine features a long rectangular frame with the digits 0-9 and a sliding pallet that aligns under the digits to be printed.
---
Apparel decorators are preparing for a big surge in local team sports in 2021 as the nation rebounds from the COVID-19 pandemic. Therefore, now is the time to gear up for athletic-numbering season in your local market.
The anticipated increase in demand for everything related to team sports has convinced many shop owners to develop a permanent presence in this niche. If that's the case for your business, it's important to determine how many garments you need to produce to meet your customers' team-order demands. Do 50 pieces a week need numbering or will you be numbering more than 500 uniforms a week?
When you can clearly determine your order quantities, it's easier to select one of the following numbering options: screen printing, heat-transfer numbering packs, heat-transfer vinyl (HTV) and appliqué numbers. Let's look at these options in greater detail and discuss the merits of each.
Manual Screen Printing
Manual screen-printing presses that are designed for athletic numbering are available from various screen-printing equipment manufacturers, including Vastex Intl. The company's V-2000HD press is a two-color numbering system. Inline Technologies' screen-printing press is another popular manual numbering machine that features a long rectangular frame with the digits 0-9 and a sliding pallet that aligns under the digits to be printed. Both systems use a flash-cure unit to flash in between colors.
Using a one-station manual screen-printing press and paper stencils is another old-school technique that still is used in some shops today. With this method, a blank 60- or 86-mesh screen is used. Then, simply load the garment on the lower platen and place a paper stencil (number cutout) on the garment's surface, lower the screen and print. Peel each paper stencil off the back of the screen, discard after each print and repeat. If this method sounds a little messy, that's because it is. However, it's an effective and proven way to add numbers to team uniforms via direct screen printing.
Semi-Automatic Screen Printing
For a semi-automated numbering operation, M&R Printing Equipment's Abacus II athletic-numbering press features a 20-printhead Duo-Deck configuration adapted from the company's Chameleon manual press. The Abacus II s features a servo-driven indexing system, controlled by a touchscreen interface, that allows positioning of virtually any number size or type.
The press operator simply enters the digit's dimensions and the desired gap between the digits (in the event of a double-digit number). The Abacus II automatically positions each garment for correct digit placement during the print cycle. The press also features a servo-driven pallet-indexing system with foot-pedal control.
The "number pre-selection" function adds automatic screen indexing. Independent, servo-driven screen carousels quickly and automatically move the next screen in the programmed printing sequence to the operator's position so that it's ready to use.
Heat Transfers
Using a heat press and heat-transfer numbers provides an easy way to do athletic numbering due to the minimal equipment and inventory investment required to get started. Heat-transfer numbering packs are available from a variety of manufacturers and each pack has enough digits to outfit an entire team — with extra numbers available to accommodate jerseys with double-digit numbers.
The most common number sizes and colors that decorators keep in stock are 6- and 8-inch block numbers in black and white. Two-color number packs can be ordered on demand to offer a more upscale look.
The industry's most common heat-press size for applying athletic numbers is the 16″ x 20″ version, available in clamshell and swing-away styles. The former opens directly facing the operator when placing numbers, while the swing-away heat press — which usually is more preferred — features a heat element that swings away from the operator to ensure safety.
If you will be applying numbers using a heat press, air-operated, semi-automatic options also exist. Ease of operation and the extra platen pressure make this equipment option worth the investment. Also, look for a machine with a timer that allows it to close for 2-3 seconds before the numbers are placed for heat application. This process, known as pre-pressing, not only flattens the garment surface, but also removes excess moisture, allowing the adhesive on the numbers to adhere better to the fabric.
It's important to note that when moisture gets trapped under a plastisol number, it can cause "pitting" or pockmarks on its surface.
Die-Cut Letter Kits
This popular method is used by decorators to add individual player names on the back of jerseys above the numbers. Many shops now are using HTV in conjunction with a vinyl cutter. Stahls' is an example of a manufacturer that offers CAD-CUT player numbers in a variety of materials that can be heat-applied to team uniforms. Prespaced numbers come pre-aligned on a clear carrier for easy positioning; no manual layout is required, and decorators can choose from a variety of number styles and effects.
With athletic numbering, practice makes perfect, so Stahls' also offers a heat-transfer sample pack for decorators to test on a variety of products to start customizing jerseys,
performancewear, shorts, caps and more. Each sample pack includes five sets of text, numbers and logos that can be heat-applied on a variety of fabrics to achieve a high-end, completed look.
Appliqué Numbers
Embroiderers have been applying twill numbers on game jerseys for decades, appealing to teams that want the high-end look of a sewn-on athletic number. There are many colors available in cotton, polyester and nylon fabrics from which decorators can choose.
The embroidery machine first lays down a single-stitch outline that acts as a placement guide for the operator. Then, a tight zigzag or satin stitch is recommended to sew the appliqué onto the garment. Some twill numbers are lightly sprayed on the back with an adhesive to hold them in place while being sewn. There also are twill materials that have a pressure-sensitive backing to hold the number on the garment while it's being sewn.
Whether you get into team numbering with a screen-printing numbering machine or a heat press, the local team-sports market returns every year and these orders will keep your garment-decoration business profitable within this rebounding segment.
James Ortolani has more than 30 years of experience in the decorated-apparel industry, specializing in hands-on, direct screen printing and heat-transfer production. For more information or to comment on this article, email James at jamesort12@yahoo.com.
Article updated Nov. 14, 2023.
---
Avoiding problems early on in your color separations will cascade down into gains at every step of the screen-printing process.
FULL STORY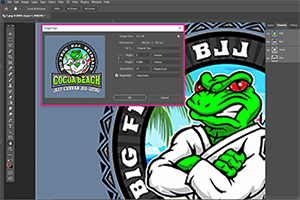 T-shirt screen-printing veterans Danny Gruninger, of Denver, Colorado, based DayBirds Printing, and Rick Roth, founder of New England's Mirror Image Screenprinting & Embroidery and Ink Kitchen, talk fast, efficient setups as part of the Shop Talk education series at the 2022 Impressions Expo in Fort Worth, Texas
FULL STORY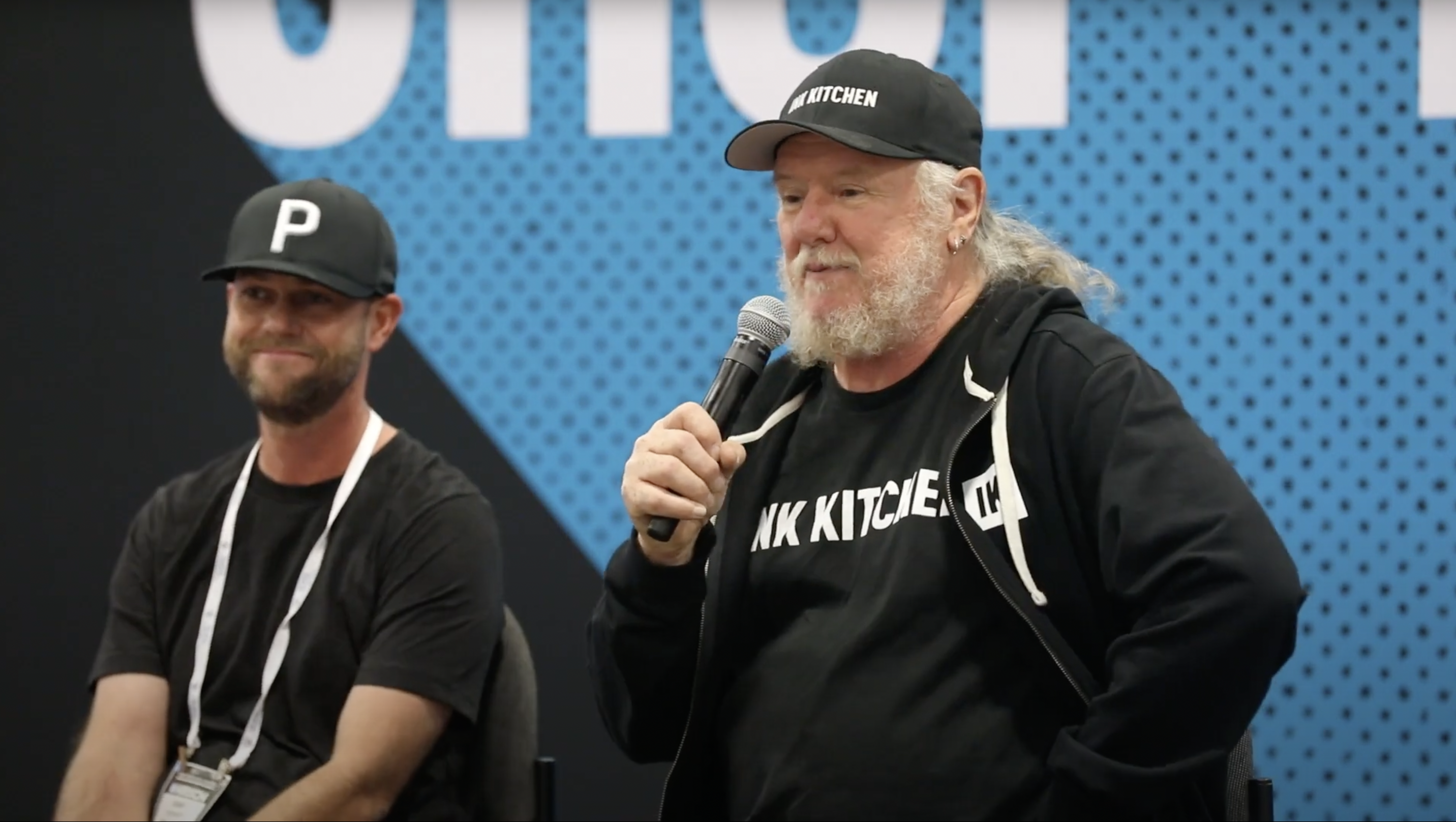 Garment decorators always are looking for ways to create special effects (SFX) with their screen-printed designs by offering specialty inks — puff, glitter, suede, shimmer, high-density and more — to keep their artwork on the cutting edge.
FULL STORY