Best Practices for Screen Printing on Caps
Follow these tips for successful cap printing using the flat or curved methods.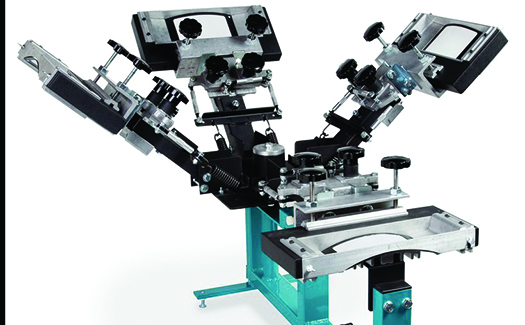 Screen printing caps using the flat process is a common technique for T-shirt printers. Image courtesy of Vastex Intl., Allentown, Pa.
---
With the return of warmer weather comes headwear season — and both are accompanied by a new profit opportunity for garment decorators.
It's no secret that embroidery has captured the lion's share of the cap-decoration market for professional team sports, but screen printing on caps still is widely used for embellishing caps for local team sports, souvenir shops and promotional headwear.
Screen printing on caps can be achieved by two basic methods: flat or curved printing. To date, decorators have made both methods work quite well, but each has its own unique set of challenges. Understanding both methods will help you decide which one is ideal for your shop.
Flat-Cap Printing: Screen printing caps using the flat process is a common technique for T-shirt printers, since printing in this way seems to come naturally. The process involves a cap platen that's attached to the lower station of a manual T-shirt press. The cap is securely positioned on the platen with spray adhesive. The screen frame used for this method is wooden on three sides with a thin metal strip on the side that comes into contact with the bill of the cap. This allows it to stand up straight during the printing process.
Another method for holding the cap to the platen is with a cap hold-down device, which is based on the design of a jacket hold-down and is made to clamp the cap on all sides during the printing process. This ensures it is held in place without the use of spray adhesive.
Curved-Cap Printing: Some companies make equipment to screen print finished caps in their natural, curved shape. The most common curved cap-printing machine is built like a small carousel T-shirt printing press using curved screens instead of flat ones.
This style of machine also features curved lower platens to hold a cap in its natural shape during the printing process. Also, a spring-loaded device is used to securely hold the cap in place while printing. The screens are made of thin steel that bends to meet the contour of the cap.
ART & SCREENS
Creating artwork for caps is a little more challenging than doing so for T-shirt printing due to the limited space available for a design. Plus, a curved surface sometimes can cause image distortion.
For example, circles can become ovals after they have been printed on the front of a cap that has been laid flat, but then returns to its naturally curved shape. Graphic artists use a few tricks to compensate for this issue by distorting the original artwork to look normal when printed flat and then returned to a curve.
Design your artwork the same way in which you would design for a T-shirt, although it is wise to limit the amount of colors used whenever possible. If the job calls for flashing after each color on a T-shirt, the same will hold true for cap printing. Think through the print sequence in advance and work out all the details before you start printing the job.
The flat- and curved-cap printing methods also require two different screen types. Making screens for flat-cap printing involves the same process as making a screen for T-shirt printing, except the scoop coater is smaller to accommodate coating smaller screens. Capillary film also is a popular method for coating cap screens since the smaller screens can be difficult to coat with direct photo emulsion. Making screens for curved printing entails direct coating with a 3-inch scoop coater or using capillary film cut to the size of the cap frame.
A wide variety of screen mesh counts can be used when printing flat caps, since squeegee pressure can be increased if more ink deposit is needed. This is not the case when printing on a curved surface, and you should select meshes in the 86-110 range to allow the ink to easily shear from the screen. This minimizes the need to double-stroke the print on the curved surface. Use minimal squeegee strokes when printing on a curved surface to reduce the chance of printing a "double image" or smearing the print.
Registering the screens for flat-cap printing is easy, but setting up a press with curved screens takes a little more practice. This can be accomplished much more easily if a pin registration system is used because there is less room to move the screens left to right when registering the job due to the curvature of the screens and substrate.
With a pin registration system, all the film positives for a multicolor job are aligned in advance and taped to individual clear carrier sheets. Next, the carrier sheets (with the design attached) are placed over two pins on the exposure unit with the cap screen positioned over these same two pins and exposed flat. This exposure process makes it simple to register the cap press since all the images are in the same place on each screen.
Before printing the cap, make sure the crown fits properly on the lower cap platen. Two different cap platens usually are necessary — one for printing tall caps and one for printing low-profile caps. Printing on six-panel caps also is possible with a lower platen that is fitted with two pieces of neoprene rubber attached to the cap platen, leaving a gap between the two pieces of neoprene. This gap allows the front seam to cradle into the gap, making the surface flat and easy to print.
Also, stir your ink to a creamy consistency before printing to allow its easy release onto the cap surface.
CURING THE PRINT
After the cap has been printed, the ink must be cured with infared (IR) or convection heat. Some smaller print shops use industrial heat guns to cure the ink on the cap front, but high-production shops use a standard textile conveyor dryer. Some IR conveyor ovens are made specifically for curing caps and feature a bank of IR heat panels on the inside wall of the oven to radiate the heat directly at the cap front. But most decorators simply tilt back the printed caps toward the heat elements when they are sent through the conveyor oven.
Caps are an American tradition that won't soon disappear. This makes for pretty good job security for all of us involved in the ever-growing headwear-decorating market. Whether you choose to go the flat or curved route, now is the time to add cap printing to your list of services.
James Ortolani has more than 30 years experience in the decorated apparel industry, specializing in hands-on direct screen-printing and heat transfer production. He has worked for main industry suppliers, and currently serves as research and development project manager for Transfer Express. For more information or to comment on this article, email James at james.ortolani@stahlsdfc.com.
Hear James speak on screen-printing and digital-decorating topics at the Imprinted Sportswear Shows (ISS). Individual seminars are just $25 if you pre-register: issshows.com.
---
An Alternative: Heat Printing on Caps
Heat printing provides an easy and fast alternative for cap decoration. By using a heat press, designs can be applied to the front, back, brim or side of a cap.
The key for doing this successfully is to use the correct platen size for the cap you are heat printing. These will vary slightly depending on the style of cap. Equally important is making sure the platen is compatible with the heat press.
A low-profile cap, such as a visor, has a print area that is about 2 ¾" x 6 ½". Caps with a low crown are 3″ x 5¾", while full-front crown-style caps are slightly larger, measuring 4″ x 6½". Foam-front caps have the largest print area at 4″ x 8¾".
Knowing the printable area on different cap styles is important to get the best results when heat printing. Using the appropriate platen will provide you with a smooth, even surface when applying your heat transfer design. Heat printing caps is production friendly and can open up an entirely new profit center for your business.
To learn more about decorating caps, visit hotronix.com. —Information courtesy of Stahls' Hotronix, Carmichaels, Pa.
---
Avoiding problems early on in your color separations will cascade down into gains at every step of the screen-printing process.
FULL STORY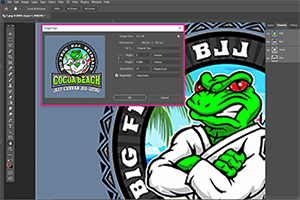 T-shirt screen-printing veterans Danny Gruninger, of Denver, Colorado, based DayBirds Printing, and Rick Roth, founder of New England's Mirror Image Screenprinting & Embroidery and Ink Kitchen, talk fast, efficient setups as part of the Shop Talk education series at the 2022 Impressions Expo in Fort Worth, Texas
FULL STORY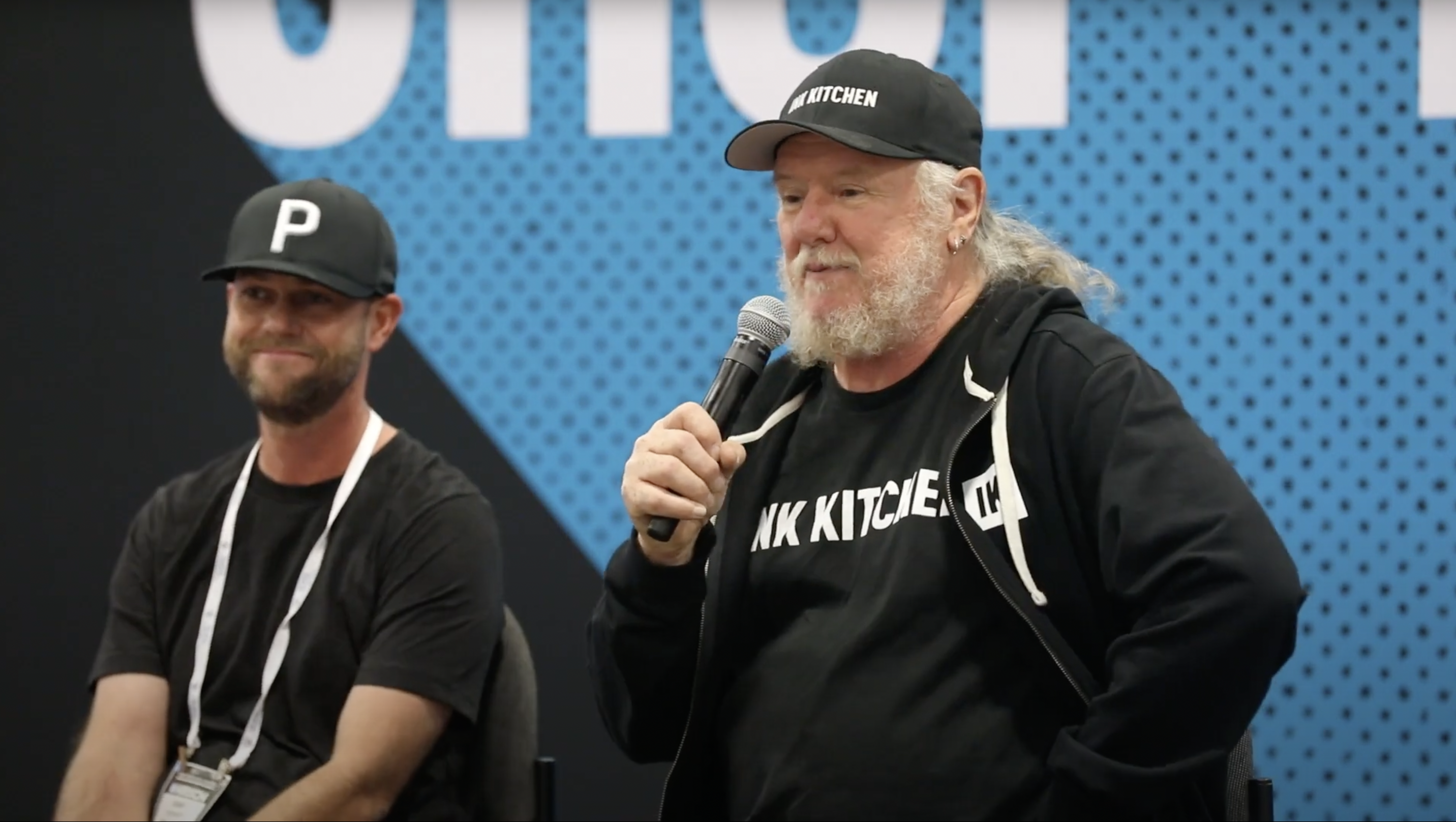 Garment decorators always are looking for ways to create special effects (SFX) with their screen-printed designs by offering specialty inks — puff, glitter, suede, shimmer, high-density and more — to keep their artwork on the cutting edge.
FULL STORY