Flock Printing: A Closer Look
Add this athletic or fashion embellishment to your decorating arsenal for increased profits.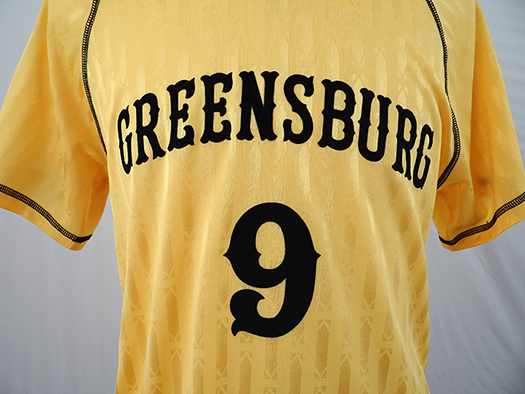 Flock as an apparel decorating process got its roots in the athletic market, where it remains popular today.
---
Decorating garments with flock is a technique that has been practiced for decades and could be considered the first real "special effect" for garment decoration. Flock gained popularity in the 1950s as a way to personalize bowling shirts with a team name emblazoned on the back and an individual bowler's name located over the pocket.
Since those early years, the popularity of this decoration option has come and gone in the fashion world. Flock provides a 3-D, plush feel with vibrant colors that can't be duplicated by any other printing method. It has withstood the test of time as a great alternative to standard screen printing and embroidery.
What is flock? It is a versatile material that provides a smooth, velvet-like feel to a printed graphic. Flock fibers most commonly are made from synthetic materials like rayon, nylon or polyester, but also are available in acrylic and polypropylene.
Manufacturing flock fibers involves an extrusion process whereby the material is melted and injected through a metal die with tiny holes. When the fibers exit the die (in a thread-like fashion), they are laser cut to exacting lengths from 0.5-2.0 millimeters in length. After being extruded and cut, the fibers are then bagged and boxed for shipment to various manufacturers in the textile, greeting card, automotive industries, and more.
Greeting card manufacturers use flock as a 3-D special effect on their cards, and the automotive industry uses it to cover the insides of glove boxes, floor mats and other interior parts that need a plush look and feel. Flock finishes also are used as sound-deadening material to reduce buzz, squeak and rattle problems with automotive parts in a car's interior.
In the textile-decoration industry, flock can be applied to garments in many different ways, including direct flocking, flock transfers, CAD-CUT flock and via the sonic fusion method. Following are closer looks at each of these processes.
PROCESS: DIRECT FLOCKING
This flocking method requires making separate screens for each of a design's colors in a way that's similar to traditional screen printing. But instead of printing with traditional inks, flock adhesive is printed onto the garment and flock fibers (loaded into a Plexiglas hopper) are distributed across the wet adhesive. While the fibers are being applied to the wet adhesive, the garment passes through an electrostatic field that makes each fiber stand up vertically, embedding the tips of the fibers in the adhesive. This process is repeated for each subsequent color and the finished flocked garment is then cured in a textile dryer with hot convection air. The result is a plush, 3-D design.
For smaller screen printing shops that don't have a flock attachment for their presses, it's possible to use a hand-held (wand) flock applicator. This works similar to a large salt shaker, as the applicator distributes the fibers over the printed adhesive and the unit provides it's own electrostatic charge.
Without the electrostatic charge from the wand, the fibers will randomly drop into the adhesive — most of them lying horizontally or clumped together in random patterns. The electrostatic field charges the fibers and makes them stand on end similar to the way a balloon makes the hair on a person's head stand on end when the balloon is rubbed against it.
PROCESS: FLOCK TRANSFERS
Some decorators prefer flock transfers to direct flocking because it's less messy and all that is needed is a heat press to apply the transfer. Since these transfers are labor intensive to make, most garment decorators purchase them from a company that specializes in the process.
Chris Blancho is the owner of New World Graphix, Fort Scott, Kan., a company whose primary focus is flock transfer production. He says his flock business is growing in several market sectors, including the work and school uniform, and moisture-wicking performance apparel niches. The performancewear flock transfers he makes are made with a high-elongation adhesive to allow graphics to stretch with the garments. In addition, flock transfers provide an upscale look that will not bleed when heat printed onto polyester-based materials.
Experienced screen printers have the option of printing flock transfers themselves; however, the process requires controlling many variables, including squeegee pressure, adhesive viscosity, room humidity, application of powder adhesive, proper curing and brushing of the final transfer before application.
If the adhesive is screen printed with too much squeegee pressure, it will be driven deep into the paper carrier sheet, causing the flock to have a poor release when heat applied to the garment. New World Graphix uses a custom printer designed specifically to shear the adhesive on the surface of the flocked transfer paper.
Another option is Lextra flock transfers. FiberLok Inc., Fort Collins, Colo., is the exclusive North American licensed manufacturer of the Lextra brand flock transfer that has taken these products to a new level with multicolor, microfiber heat transfer graphics. Lextra transfers are created using dyed nylon fibers instead of printed rayon. This inkless process allows brilliant color, durability, soft texture and fine detail. Lextra is used in the fashion, uniform and promotional markets for apparel, towels, hats, bags and fleece.
"When a decorator chooses to decorate garments with flock transfers, he is less likely to be knocked off by competitors since the process is more exclusive," says Brown Abrams, owner, FiberLok. "And this makes it easier to keep the repeat business than with embroidery, which is regularly shopped around."
FiberLok's heat-applied flock graphics also can be used for stickers, film laminates, consumer products, apparel branding and many other applications.
PROCESS: CAD-CUT FLOCK
This is an excellent way to decorate garments, and all that is needed is a computer, a digital cutter, CAD-CUT flock yardage, and a heat press. The flock fibers are adhered to an adhesive heat-seal backer that allows the flock material to be cut and weeded before applying with the heat press. CAD-CUT flock can be used to customize hard-to-print materials, such as terrycloth towels and corduroy, and it has an advantage over embroidery and screen printing when it comes to decorating these challenging fabrics.
"CAD-CUT flock is a perfect alternative to direct embroidery," says Josh Ellsworth of Stahls', St. Clair Shores, Mich. "Customers are using it either instead of embroidery or alongside embroidery in a quote to offer a lower price point that doesn't take up machine time."
"Flock also is a great product for indoor sports jerseys," he adds. "The soft, velvet-like texture will allow an athlete to slide across the floor without the numbers gripping or stopping him."
CAD-CUT flock also gives cap decorators an easy way to decorate six-panel caps, since the flock completely covers the front seam of the panel. This is difficult to achieve with screen printing and embroidery.
PROCESS: RF FLOCK WELDING
Radio Frequency (RF) flock welding is the process of fusing flocked PVC to fabric. This is accomplished by dielectric heating the film on special equipment known as RF welding, high-frequency welding or heat-sealing machines. While all of the above terms are generally interchangeable, the most commonly used term in the decorated apparel industry is RF welding.
With this process, a metal die is created from the customer's artwork and is affixed to an upper platen on the welding machine. This upper platen is then locked down directly onto the printed flock image (PVC-backed) material for 8-15 seconds. This process directly fuses the PVC-backed flock material to the garment.
It is common to see RF flock welding on mass merchandise at discount retail stores on backpacks, hats and sweat shirts. The process provides a multicolor, contoured 3-D image and, after the welding process, the excess flocked PVC material (surrounding the heat-applied image) must be ripped or weeded away and discarded.
Whether your company specializes in screen printing or embroidery, adding flocked graphics means you can branch out and take advantage of our industy's first special-effects printing technique.
James Ortolani has more than 30 years experience in the decorated apparel industry, specializing in hands-on direct screen printing and heat transfer production. He has worked for main industry suppliers, and currently serves as R&D project manager for Stahls' DFC. For more information or to comment on this article, email James at james.ortolani@stahlsdfc.com.
---
Avoiding problems early on in your color separations will cascade down into gains at every step of the screen-printing process.
FULL STORY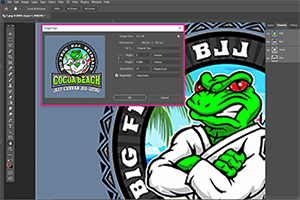 T-shirt screen-printing veterans Danny Gruninger, of Denver, Colorado, based DayBirds Printing, and Rick Roth, founder of New England's Mirror Image Screenprinting & Embroidery and Ink Kitchen, talk fast, efficient setups as part of the Shop Talk education series at the 2022 Impressions Expo in Fort Worth, Texas
FULL STORY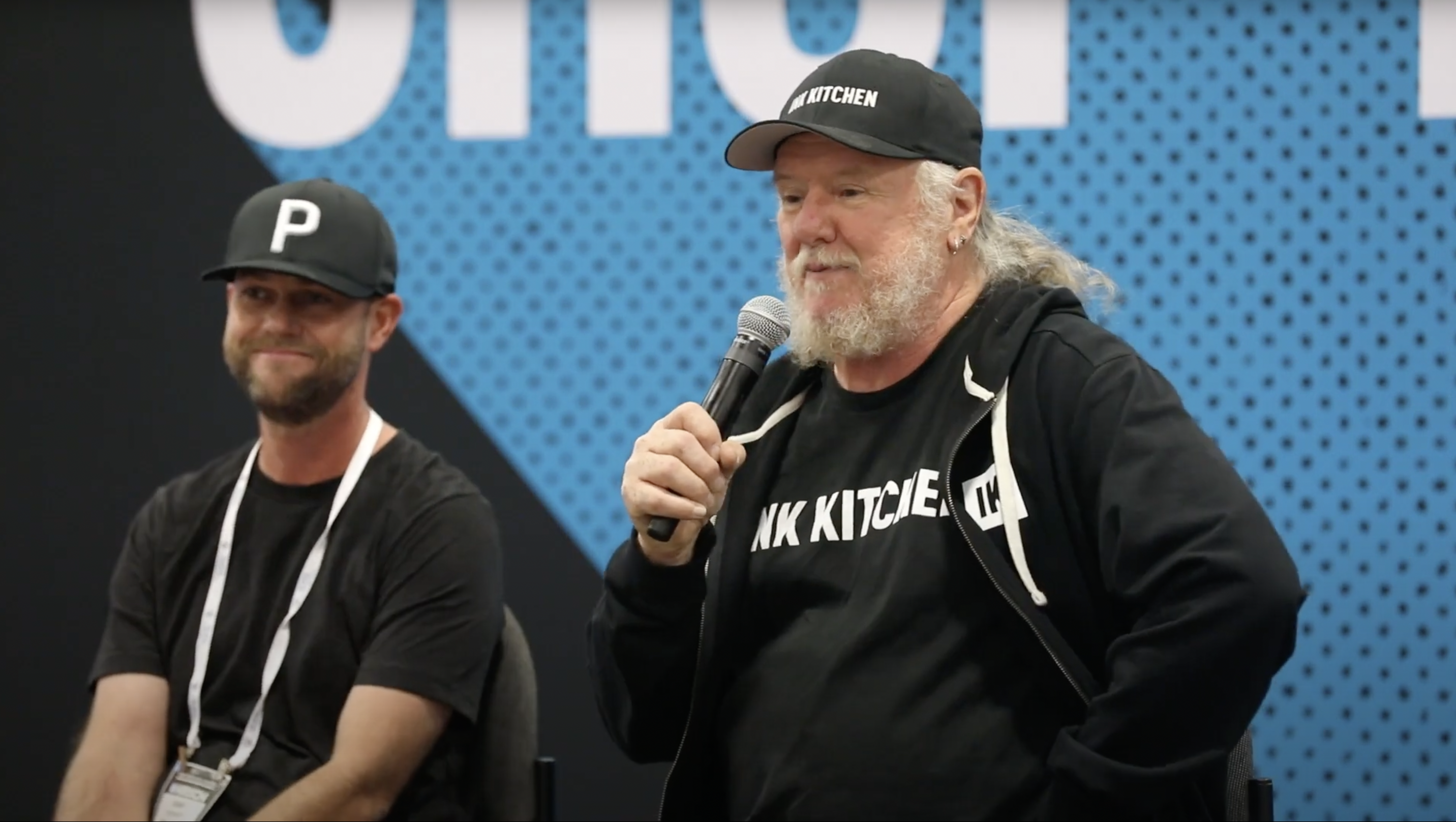 Garment decorators always are looking for ways to create special effects (SFX) with their screen-printed designs by offering specialty inks — puff, glitter, suede, shimmer, high-density and more — to keep their artwork on the cutting edge.
FULL STORY