On The Front Lines
Decorators offer insights on the trends, challenges and things to watch in this fast-evolving industry.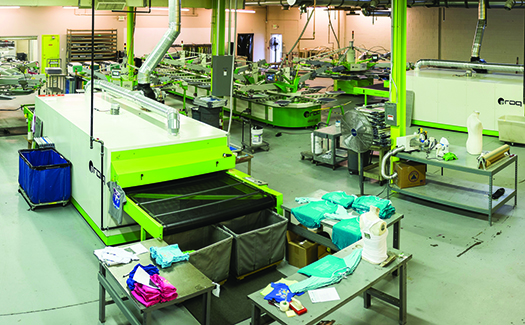 The production floor at Denver Print House includes multiple automatics. Owner Danny Gruninger says the market is shifting toward inks that are easy to wear, allow the garment to breathe and can withstand the abuse of daily workouts.
---
Customers want that decorated shirt, cap or bag and they want it now. Shop-to-market speed expectations are at an all-time high — especially with e-commerce players upping the ante — and today's decorators are navigating the best ways to meet demand without sacrificing quality.
With all-new technologies, machines and high-tech, trendier materials, industry suppliers certainly are giving decorators the tools to remain competitive in immediacy-driven markets.
But with this surge of faster, newer, better equipment, there seems to be a simultaneous move toward a "back-to-the-basics" approach, with many decorators returning their focus to customer service and good old attention to detail as a means of differentiating themselves.
To find out more about the industry goings-on, and to get a forecast of what the next few years may look like, Impressions sat down with Krissi Dane, owner, EmbroiderMe LLC; Howard Potter, CEO and owner, partner, A&P Master Images; Danny Gruninger, owner, Denver Print House; and Eric Melito, owner and silk screen artisan, ONE on 1 Design.
Following is what they had to say.
Impressions: In what area of decorated apparel do you see innovation coming from in the next year or so and why?
Krissi Dane: [I see] advances in printing and etching, and some changes in sublimation. Things seem to be moving more in that direction and there are so many advances in the way screen printing, sublimation and DTG is being done that I believe the effects will be amazing.
Howard Potter: I would have to say vinyl graphics. 3M and other manufacturers of vinyl products have something for everyone, from decals, posters and printed shirts, to floor graphics, magnets, banners, dry-erase boards, car wraps and more. That one service has so much to offer to anyone and everyone and allows you to offer 1- to 1,000-piece orders.
Danny Gruninger: One of the bigger areas of innovation is probably in the use of non-PVC water-based-style inks. With CrossFit and other new athletic gyms opening, we are seeing more and more requests for soft-hand, breathable inks. Some of the large decorators, such as Nike, adidas and Under Armour, are pushing this type of ink into the marketplace, which is pushing smaller decorators to follow suit.
Eric Melito: I'd have to say women's scoop necks and V-necks in softer, thinner cotton are on the rise. I get asked frequently about those styles. I'm out in the public eye weekly setting up at various festivals and events with my own line of shirts, and the ladies' side of my designs is really beginning to take off.
Impressions: With more competition from custom online websites pushing the envelope on things like quick turnarounds, how can screen printers/small digital decorators remain competitive?
KD: [By concentrating on] customer service and quality over quantity. Any big company can run 200 shirts or embroider 100 hats, but do they have time to stop by the business to check on their inventory or take them a sample of a new item that might be of interest? Personal connection is a big advantage for small businesses.
HP: The No. 1 mistake everyone makes is that they are focused on being the cheapest. We never promote sales. We only promote quality, customer service and turnaround time. Shops of any size can turn around an order in two weeks or less if they have the process down to a science. [It's important] to focus on producing a top-quality product, maintaining a decent turnaround time and selling your product for what it is worth.
DG: While the larger online outfits are taking share of the market, we are finding their niche does not compete with our current markets, mainly due to the fact that we are known for our exceptional quality of custom artwork paired with great print techniques. If you order from us, you can expect award-winning-level art. The large online operations are not there yet. Small print shops can remain competitive by offering custom art, personalized services and finished inks.
EM: Screen printers, whatever the size or capacity of their business, need to listen to their customers. Treat them fairly, but also add in their experience to steer customers in a direction that is comfortable for all involved. Quality customer service, with a friendly, honest approach works every time.
Impressions: Discuss the biggest challenge that continues to exist for the small- to medium-sized decorator, and how that challenge can be solved.

HP: Finding great staff and training them is the hardest thing to do. We have had staff that we paid less and more; we have hired people with experience and without. We have found that if you can afford to offer a higher wage from the start you can draw from a larger pool of people that will want to interview for the position, which gives you higher odds of finding someone that will work out. Then the next thing is training them. Even if they have experience you have no idea what bad habits they come with that you have to break. From there you have to make time to train them on the fly to get them up to speed.
DG: There are several challenges that face smaller- to mid-sized shops these days but one major challenge is the pricing structures. Everyone is racing to the bottom for the low-ball price. The larger shops we compete with offer perks such as free artwork, free screen setup, free digitizing, etc. The larger shops are able to work these secondary costs into their overhead structure, which allows them to offer cheaper end pricing than small and mid-sized shops. On the flip side, you have the small shops that have little to no overhead at all, which allows them to eat these secondary costs as well.
EM: I'd say one of the biggest challenges for me is just having enough time to get done what I need to get done. Since I do it all, from the designing, to marketing, burning the screens, set up, printing, folding of the shirts individually and sales, I need to stay focused from 7 a.m.-11 p.m. But for me, that's not really a problem since I love doing what I do.
Impressions: Direct-to-garment (DTG) print speeds are rapidly increasing. Is this a good thing? Where do you think this development will take DTG technology in the coming years?
KD: I think it could be a good thing as long as there is quality control. Fast isn't always best. It could advance [the technology] and make more companies invest and add a new dimension to the decorated apparel industry, but again, it has to be incorporated with a good system for quality control to ensure the quality and pure art that it represents.
HP: I have to be honest — I am not a fan of DTG. I have watched this industry develop over the past six to eight years, and I think in the future, it will be much better and [produce] a great product. You have to pretreat a shirt, load it on to a platen, print it, and then either run it through a dryer or heat press it. Also, if you run out of ink with [DTG machines], then you lose the shirt altogether. When you are screen printing, you can see the ink on your screens. My entire [screen-printing] setup is worth just shy of $120,000. The average DTG printer ranges in price from $25,000 to $75,000 to do one shirt at a time. We currently produce around $700,000 in screen printing alone, but our setup can handle around 2 million-plus a year. Do the math.
DG: Of course the speeds increasing is a good thing but, in our eyes, until [DTG] can match the speed of a traditional printer, we don't ever see it replacing standard methods of printing. Digital printing is obviously progressing at a fast pace, which could potentially challenge the traditional market. But with the popularity of producing traditional screens with a CTS machine, the [screen-printing] process also has become much faster than in previous years. When DTG manufactures can produce inks that can print on poly sport athletic jersey fabrics, as well as other fashion-forward niche garments, I could see a huge benefit to that.
EM: DTG is not in my vocabulary. I am a manual screen printer — anything else is just not screen printing to me. Manual screen printing is a dying art form. For me, it's not about ease and speed and satisfying that one customer that wants one shirt. It's about the craftsmanship.
Impressions: Between backings, threads and machines, what's the biggest innovation driver for embroidery?
KD: All of them. If you have bigger, better machines, more brilliant color threads and better, softer backing, it all makes a difference. I think the biggest innovation for embroidery would be well-trained, qualified digitizers in the United States, keeping our industry in our country with more qualified reps to help us when the machines need repairs or maintenance.
HP: I would have to say mixing laser attachments with embroidery machines. They allow you to do embroidery, tackle twill and distress work all on one machine.
DG: The biggest innovation right now that I see for embroidery is the machines themselves. While thread and backing have evolved over the last several years, mainly to sew on performance-rated
material or dry-blend garments, it's still the machines in my eyes. The ability to load jobs without a floppy disk, have the display show a detailed report of the job and track production statistics and the increased operation speed are all the benefits that I recognize.
Impressions: What role does fashion play in your everyday orders? Do you suggest fashion items over basics and what are your customers' reactions?
KD: It plays a small role, but more so as I try to expand into other venues. I try to upsell or suggest things that I think fit what customers want. If they are wanting sporty [garments], I suggest the performance-type materials. If they are looking for a softer, more durable look, we usually go more conventional with more cotton than polyester. It makes them look on-trend and it reflects well on my business too.
HP: Every day it plays a role. You need to be able to spot trends and create them, giving you an advantage over competitors that will bring in more customers, as well as repeat orders.
DG: Fashion in general plays a somewhat significant role in our daily orders. While a large part of our client base [caters] to the resort market or high-end niche markets, we still need to stay on top of the current fashion trends. The market we are selling to dictates the type of garment we are trying to sell, as a large portion of our printing remains on your standard garment. Anytime we have the opportunity to upsell the garment to a more fashion-forward option our account reps certainly will take this approach.
EM: My customer base is more "userfriendly" when it comes to fashion. Junior sizes get confused looks. [Customers]
hold up those tiny shirts and say, "This is a kids' large, right?" I stick to traditional fitting or classic sizing for my designs.
Impressions: What market niche do you see as being the most popular heading into 2016 and why?
KD: I think it will continue to be sports and outdoors or activewear. People are becoming more aware of the need to be active, so their clothing and accessories are going to reflect that change in their lifestyles.
DG: The biggest niche markets I see coming for the small- to mid-sized print shops are soft-hand, water-based-style inks. There are shops popping up from coast to coast specializing in water-based, HSA and dye-discharge methods of printing, which is driven by large offshore operations and regulations put in place by end retailers. With the explosion of CrossFit gyms and other workout-related companies that all provide apparel to their customers, we are going to see a huge shift in the market toward inks that are easy to wear, allow the garment to breathe and can withstand the abuse of daily workouts.
EM: Heavier fleece. I'm asked for it from time to time. I can understand why; the thinner 8-ounce is undesirable [for my clients]. The thicker 9-ounce is better, but still a bit too thin from what I'm hearing. 
---
Avoiding problems early on in your color separations will cascade down into gains at every step of the screen-printing process.
FULL STORY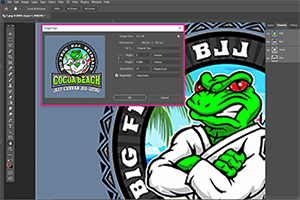 T-shirt screen-printing veterans Danny Gruninger, of Denver, Colorado, based DayBirds Printing, and Rick Roth, founder of New England's Mirror Image Screenprinting & Embroidery and Ink Kitchen, talk fast, efficient setups as part of the Shop Talk education series at the 2022 Impressions Expo in Fort Worth, Texas
FULL STORY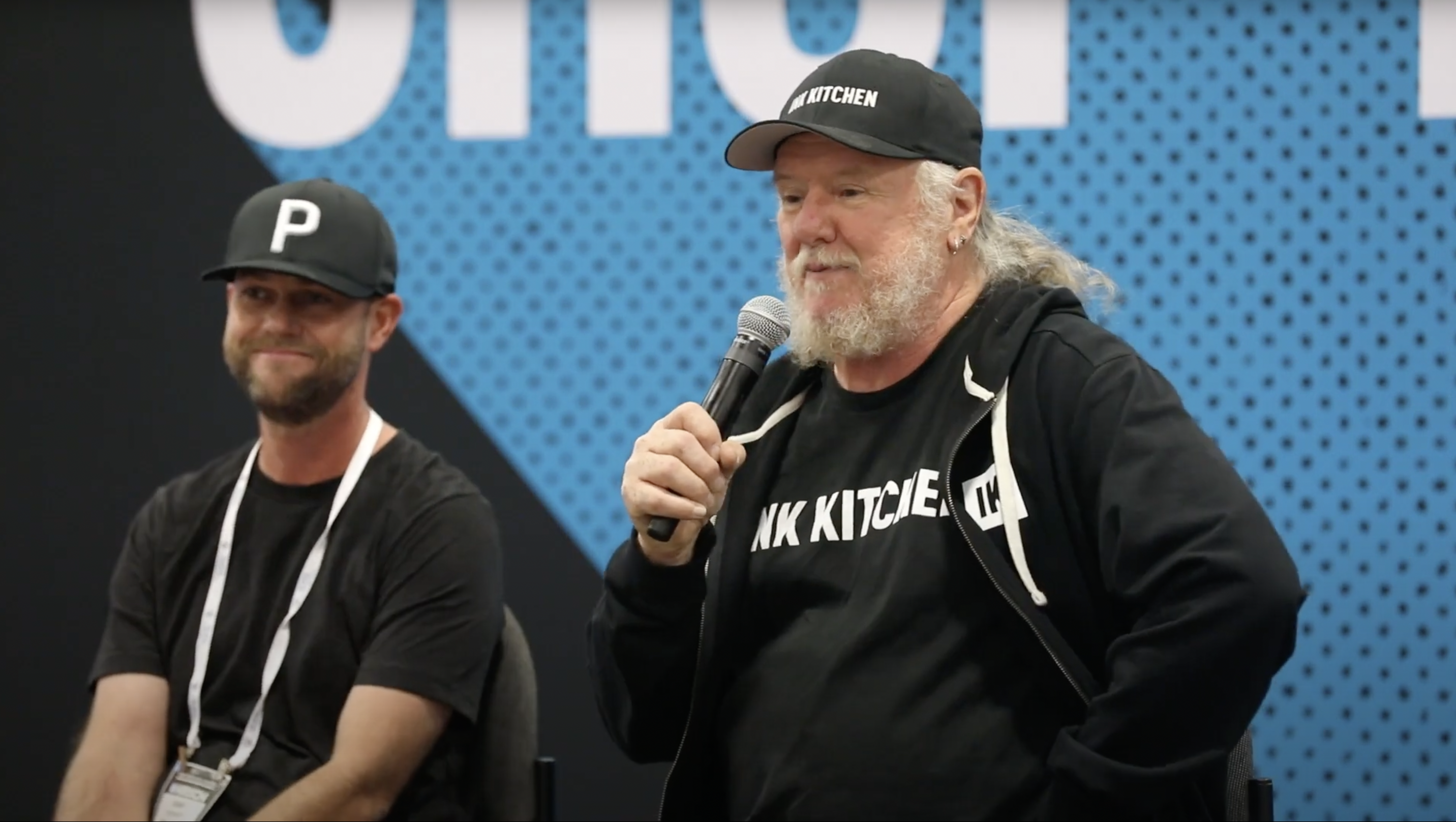 Garment decorators always are looking for ways to create special effects (SFX) with their screen-printed designs by offering specialty inks — puff, glitter, suede, shimmer, high-density and more — to keep their artwork on the cutting edge.
FULL STORY