Press Coverage: From Manual to Automatic
Planning and preparation are key in successful transition to automatic screen printing.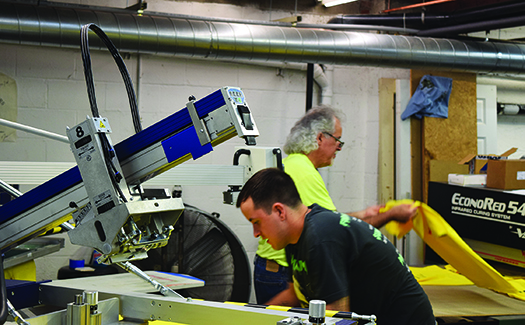 On the manual press, the production rate averaged about 100 pieces an hour. On the new automatic, the average is about 500 shirts an hour.
---
From the day we started our textile screen-printing business in 2006, my father, Bob, and I knew an automatic press was in the cards. But as with everything else, we recognized that timing and planning were critical with respect to making the leap.
Because we did our homework and were prepared, the transition was a smooth one with minimal hassle and no surprises. After eight years of printing on a six-color/six-station manual, our eight-color/10-station compact automatic press was delivered this past June. The benefits were immediate. Our turnaround time dropped from as long as two weeks, to between three and six days with the same manpower. While order volumes are getting bigger, we can print them faster.
I also have more time to sell and we can market to larger-volume customers. The learning curve hasn't been that steep, partially because our new press is so intuitive and easy to use. A big reason the transition went so smoothly involved knowing the automatic would require an increase in everything from shop space to support equipment, as well as more utilities and the need to sell more to fill its capacity. We also had to prepare for all of these factors.
With my family being in the screen-printing business for nearly a century, we were aware of the variables and pitfalls, as well as the potential. So despite being drawn to the business early on, my dad held off starting Kaules Screen Works, which was initially a custom printing and supply company, until he believed the demand was sufficient.
THE EARLY YEARS
A year after starting the business, we decided to solely focus on decorating, and moved out of our basement and into a 3,000-square-foot freestanding facility in a high-traffic area. Although we didn't have an automatic press at that time, the understanding that we eventually would purchase one figured into our initial equipment purchases.
Our first dryer was 54 inches wide with a 14-foot belt. It was bigger than we needed at the time, but we opted to buy a unit that could handle automatic production so we wouldn't have to upgrade or add another dryer down the road. It was a big risk, but it paid off.
As with our dryer, we selected our screen-preparation equipment with an eye toward the future. Our screen-exposure unit could accommodate 23″ x 31″ screens and we installed a 36″ x 36″ x 18″ washout booth.
We began researching automatic presses early by reading articles, surfing the Internet, attending industry trade shows, and talking to manufacturers and other printers. Ironically, we ended up purchasing one of the first presses we saw at an Imprinted Sportswear Shows (ISS) event, and we readied our shop and ourselves for it.
Part of that preparation included adding an air compressor. Knowing the press we were buying enabled us to determine the size of the air compressor we needed. We found one on eBay that fit the bill and was locally available.
From the beginning, we bought the best equipment that we could get so that when upgrades were necessary, we wouldn't have to review our capabilities and possibly rebuy. At the same time, though, we kept a close eye on expenses.
In addition to the cost of major support equipment and the automatic press, we were aware that electricity was a key consideration — and one that can be very expensive. We were fortunate that our shop already had three-phrase power, which saved us a lot of money.
We had to run a 30-amp, single-phase 220 circuit to power the press, as well as a 30-amp, three-phase circuit for the compressor. We also put in two 35-amp, three-phase circuits for the new flash units.
In the large room where we print, we ran copper air lines from the compressor to the press. We did the same throughout the entire shop to provide air in each room where needed. Now, we have a line near our washout booth to blow out screens, as well as one in the embroidery department. Our ventilation/exhaust system was satisfactory, as we had installed it several years ago when we began working with water-based and discharge inks.
LOCATION CONSIDERATIONS
If you're considering buying an automatic press, give some thought to your shop and its location. Research the zoning, fire and building codes, and check with neighboring businesses to ensure installing such a press won't pose any problems. Although we didn't encounter any issues, I've heard stories of printers who had an automatic up and running before learning their buildings weren't zoned for heavy machinery and had to shut down.
Shop layout also is a consideration. We had the space, but had to do some cleanup and rearrangements for the automatic's installation and placement. In addition to the location of things like electrical connections, we tried to consider ergonomics and workflow.
We also kept in mind that we needed to first get the new press into the shop. This meant checking whether it would fit through the door and ensuring there was a clear path to its designated location in the shop. We also ensured there was adequate room for the installers to work and position it properly.
If that sounds like a lot to consider, there's even more. For instance, the driveway on the door side of our building is steep and the forklift we rented had standard forks. In hindsight, it would have been better if we had rented a lift with extended forks. Seeing the press come off the truck almost gave me a heart attack.
Overall, our move-in went extremely smoothly. The tech rep assembled the press in a few hours, then spent a half-day educating us on setting up and operating it. When he left, we had a good understanding of the basics and simply needed to become familiar with the machine and what it took to print properly. The tech rep arrived on Tuesday and we printed our first job — a single color — on Thursday.
PRINTING DIFFERENCES
Printing on an automatic is definitely different — especially when you start printing three and four colors, as well as spot colors that involve some fine-tuning — but we didn't have any major problems. The biggest issue was learning how variables like ink viscosity and mesh count were impacted by the automatic and, of course, familiarizing ourselves with new tools and controls. One of our other big challenges involved scrambling for bigger screens and not knowing the correct mesh counts to use.
We learned that on the automatic, we could use thinner inks instead of a special base to get a soft hand, and that we could use higher mesh counts and a highlight screen at the end of the sequence to save time getting a bright white. Manual printing tends to be more forgiving and sometimes the automatic calls for adjusting the inks from that to which we were accustomed.
We discovered the importance of adjusting the squeegee angle and pressure to avoid "squeegee burn," or lines from the edges of the squeegee, and how to determine the correct flash temperature. There are a lot of things you can do on an automatic press to affect the print, such as adjusting pressure controls, flood bars and flash height to ensure prints come out nicely. We ran a bunch of test prints on scrap T-shirts and didn't have a problem with rejects.
Our planning also included getting as far ahead on our work as possible before the installation and letting customers with jobs in the queue know there could be delays. They understood the long-term benefits and wished us well.
'AUTO POWER'
With our shop, we always have tried to run lean and keep the payroll low, and we'll outsource artwork and bring in outside help when necessary. My dad and I still do most of the printing, with me also handling marketing and him pitching in with production when he's not working at his full-time job as an electrical engineer.
Even with the increased volume our automatic has attracted to the business, I've been able to cut back on press time. I can run 500 shirts an hour on the automatic, compared to 100 on the manual.
That gives me more time to focus on other business aspects. When we reach the point of adding full-time employees, the way our automatic press setup is designed should make training a non-issue.
Right now, we're focusing on making the most of our new "auto power" — getting the word out about our expanded capabilities and exploring new opportunities. We're switching up our marketing and letting people know we can handle more volume and offer faster turnaround.
Although we recently became an ASI decorator, we still see our primary market as custom decorating and are pursuing independent clothing lines, using Facebook, Instagram and Google, as well as traditional approaches.
Our goal is to do more fashion work and printing for musicians and bands. After years of having to outsource the big orders, we're ready to take things to the next level.
Garrett Kaule is co-owner, along with his father Bob, of Kaules Screen Works, Pittsburgh, which was founded in 2006. The company primarily is a custom screen-printing operation offering spot-color, four-color process and discharge printing services. For more information or to comment on this article, email Garrett at screenman@kaulesscreenworks.com.
---
Avoiding problems early on in your color separations will cascade down into gains at every step of the screen-printing process.
FULL STORY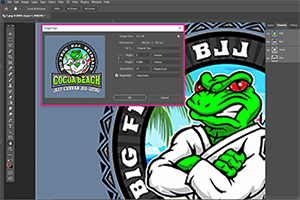 T-shirt screen-printing veterans Danny Gruninger, of Denver, Colorado, based DayBirds Printing, and Rick Roth, founder of New England's Mirror Image Screenprinting & Embroidery and Ink Kitchen, talk fast, efficient setups as part of the Shop Talk education series at the 2022 Impressions Expo in Fort Worth, Texas
FULL STORY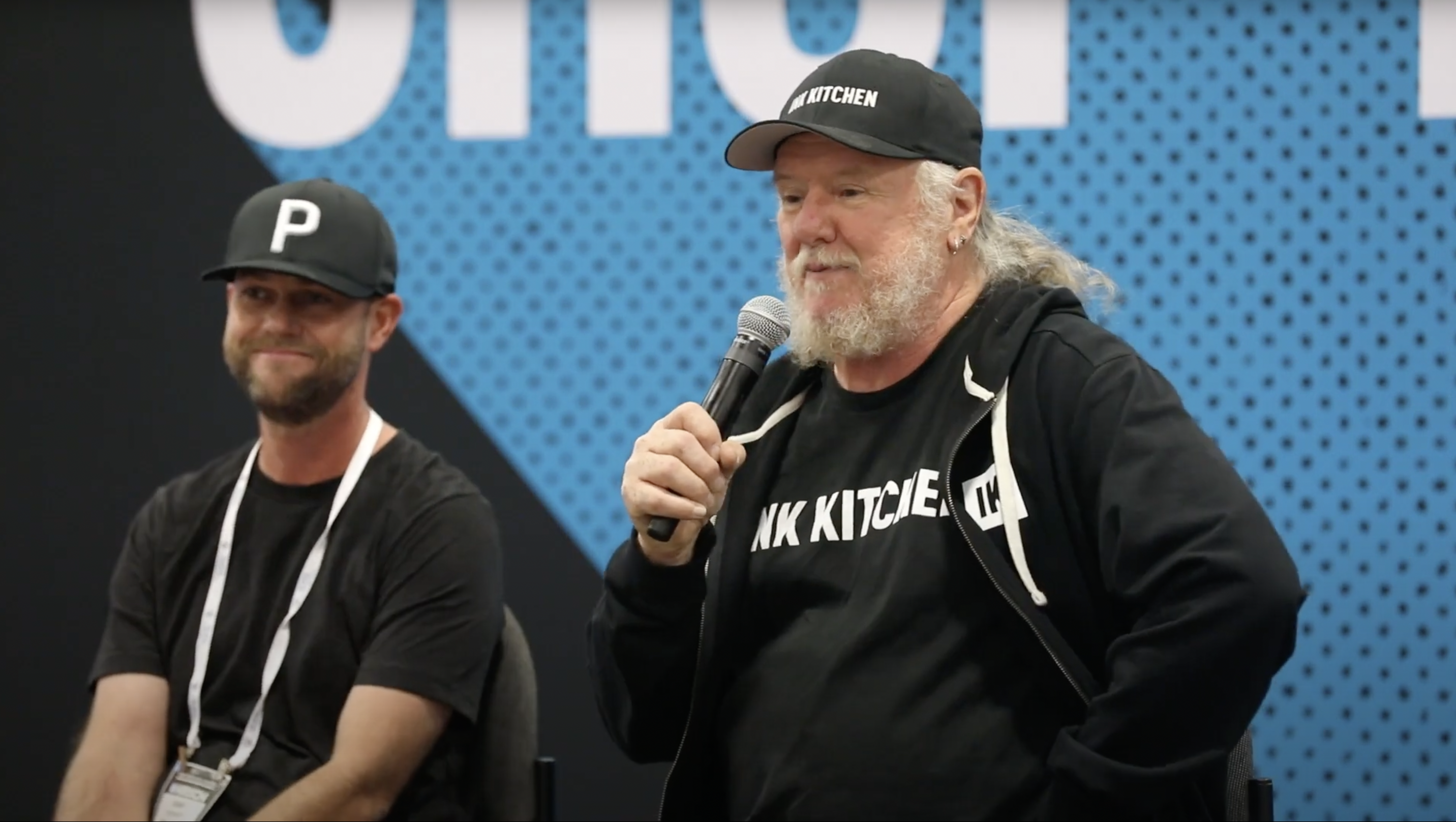 Garment decorators always are looking for ways to create special effects (SFX) with their screen-printed designs by offering specialty inks — puff, glitter, suede, shimmer, high-density and more — to keep their artwork on the cutting edge.
FULL STORY