Screen Printing on Tricky Fabrics
Easy-to-follow tips for getting the best results on cotton, polyester, tri-blends and more.
Low-cure plastisols are ideal for printing on polyester athletic jerseys. The lower cure temperature allows printed colors to stay bright on a variety of background colors. Photo courtesy of Wilflex.
---
I recently visited Pittsburg, Kansas-based Wilbert Screen Printing to talk with owner Bill Wilbert, and we ended up reminiscing about the 1960s when he had to go to department stores to buy T-shirts for his business since there were no wholesalers from which to buy.
"My wife and I would buy all the T-shirts on the display table and when we got back to our shop, we would unwrap hundreds of plastic packages before we could start screen printing," he recalled.
Think about that; Wilbert's biggest challenge at the time was getting cotton T-shirts. Fast-forward to 2019 and we have an abundance of garment suppliers, and the biggest challenge for today's screen printers is learning how to print on materials like 50/50 blends, tri-blends, 100% polyester, performancewear and more.
More information follows about the fabrics available on today's market, as well as tips for successfully printing on them.
1. Cotton: Printing on 100% cotton is an industry standard and the demand still is high for such garments due to the fabric's soft feel and easy decoration. A natural fiber, cotton has good wicking properties, making it easy for most textile-ink systems to achieve good mechanical adhesion.
Since cotton is absorbent, the dyes used to color the fabric are more stable and less prone to bleed through the ink printed on the surface. However, within the cotton category are the popular garment-dyed T-shirts that have been vat dyed after the T-shirt was sewn.
Printing Tips: Cotton can be printed with standard plastisol, water-based and other non-PVC textile inks with very few printing issues. However, printing on garment-dyed goods, like those from Comfort Colors, requires more attention to detail and a gray underbase to be printed first, then flashed, with the subsequent colors printed on top to keep the dye from penetrating the ink film.
2. Polyester: When polyester garments first were introduced to the market, screen printers used standard plastisol inks — cured at 320˚F — to print on these fabrics with some success. However, printing with these higher-cure-temperature inks caused a problem with dye migration due to dryer temperature settings in the 320˚F-350˚F range.
In addition, standard plastisol inks don't have the stretch properties that the new performance plastisols offer. But the good news is there now are low-cure, high-elongation plastisols available for printing on 100% polyester fabrics. They cure in the 275˚F-290˚F range, just below the temperature that causes polyester fabrics to sublimate and release the garment color through the ink film.
"Traditionally, water-based inks have always had great success when printed on cotton fabrics, whether it be soft base on light garments, or creating a very soft feel by printing with a discharge base, which provides a solution for printing on specific dark cotton garments," says Ray Smith, an application specialist at Wilflex. "To meet the challenges of printing on dark garments that don't discharge well, high-solids, water-based products have flourished. For printing on polyester and polyester blends, the same high-solids, water-based inks can be used when printed over a bleed-blocking layer — usually a black — that stops the fabric dye from migrating into the ink film."
Printing Tips: A common technique for printing a white image on polyester is to print a low-cure white through a 156 mesh, then flash and print a second white on top with a 230 or 305 mesh to achieve a smooth, opaque print. Some polyester fabrics are brushed during the manufacturing process to give them a soft feel, which causes tiny fibers to protrude through the ink film.
This problem is referred to as fibrillation; to fix it, a smoothing screen can be positioned on the press right after the flash station. With this method, plastisol is printed and flashed, then the smoothing screen makes contact with the warm ink film and a roller squeegee rolls across the screen's print side, flattening the ink film below. It's also important to store plastisol inks in warm-room conditions during the winter to reduce tackiness, which will help with fiber matting during the printing process.
Common meshes for printing on specialty fabrics start in the 156 range and go up to 305. It's important to use high-tension screens in the 25 N/Cn range (or higher) for best results. Coat the screens with direct emulsion using the dull side of the scoop coater to help achieve a 20% emulsion over mesh (EOM). Stencil thickness is critical to ensure an adequate amount of ink is deposited onto the garment surface to help achieve maximum opacity.
3. Tri-Blends: These fabrics typically are made of a combination of cotton, polyester and rayon, and are in high demand in the casual garment market. They are ultra-soft in feel, so the inks that are used to print on these garments must be soft to the touch after the ink is cured.
Printing Tips: One method for achieving a soft print on tri-blends is to mix a soft-hand additive with the ink and select a screen mesh in the 230-305 range to achieve a thin, soft-hand print. Use a 65/90/65-durometer squeegee, as the 65-durometer edge shears the ink onto the fabric surface rather than pushing it through the garment. Inspect the inside of the garment after printing and if ink is visible, then back off the squeegee pressure.
4. Compression Garments and Stretchy Fabrics: Stretch fabrics and compression garments continue to grow in popularity because of their moisture-wicking qualities, as well as those that help with the body's cardiovascular function during workouts. The term "performancewear" also means these fabrics perform a particular function, in addition to being fashionable.
Printing Tips: The ink types used for printing on these stretchy fabrics include plastisol, non-PVC and water-based inks, but it is important to select the correct series in each of these ink categories to ensure stretch additives are built into the ink formulation.
Silicone inks have the highest elongation level and are ideal for printing on stretch fabrics and compression garments. Learning how to print with these or other high-performance inks will help you create a niche in the performancewear market.
As always, consult your ink supplier for the best ink series for printing on stretchy fabrics. It's important to do your homework on all the new textile inks on the market and develop a strategy for your business to use this technology in your apparel-printing business.
James Ortolani has more than 30 years of experience in the decorated apparel industry, specializing in hands-on, direct screen printing and heat-transfer production. He currently works for PolyOne Corp. For more information or to comment on this article, email James at james.ortolani@polyone.com.
More About Printing on Poly
Depending on the garment brand being used, one approach to printing low-cure plastisol inks on polyester is to use a 156 mesh (or higher), flash and then print a second ink layer to achieve good results.
Many of today's polyester garments are treated with a process that makes the garment more colorfast and less prone to bleed. When printing such polyester garments, a low-cure plastisol can be printed through a 305 mesh with a print, flash, print sequence to achieve an opaque, smooth print.
However, treated red polyester fabrics still can bleed unless a gray or black underbase is printed first and flashed, with the subsequent colors being printed on top. This gray underbase technique has become mainstream during the past five years and some formulations contain a high percentage of carbon that traps the garment dye, allowing the colors printed on top to stay bright and opaque.
---
Avoiding problems early on in your color separations will cascade down into gains at every step of the screen-printing process.
FULL STORY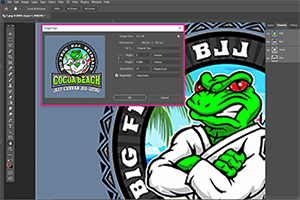 T-shirt screen-printing veterans Danny Gruninger, of Denver, Colorado, based DayBirds Printing, and Rick Roth, founder of New England's Mirror Image Screenprinting & Embroidery and Ink Kitchen, talk fast, efficient setups as part of the Shop Talk education series at the 2022 Impressions Expo in Fort Worth, Texas
FULL STORY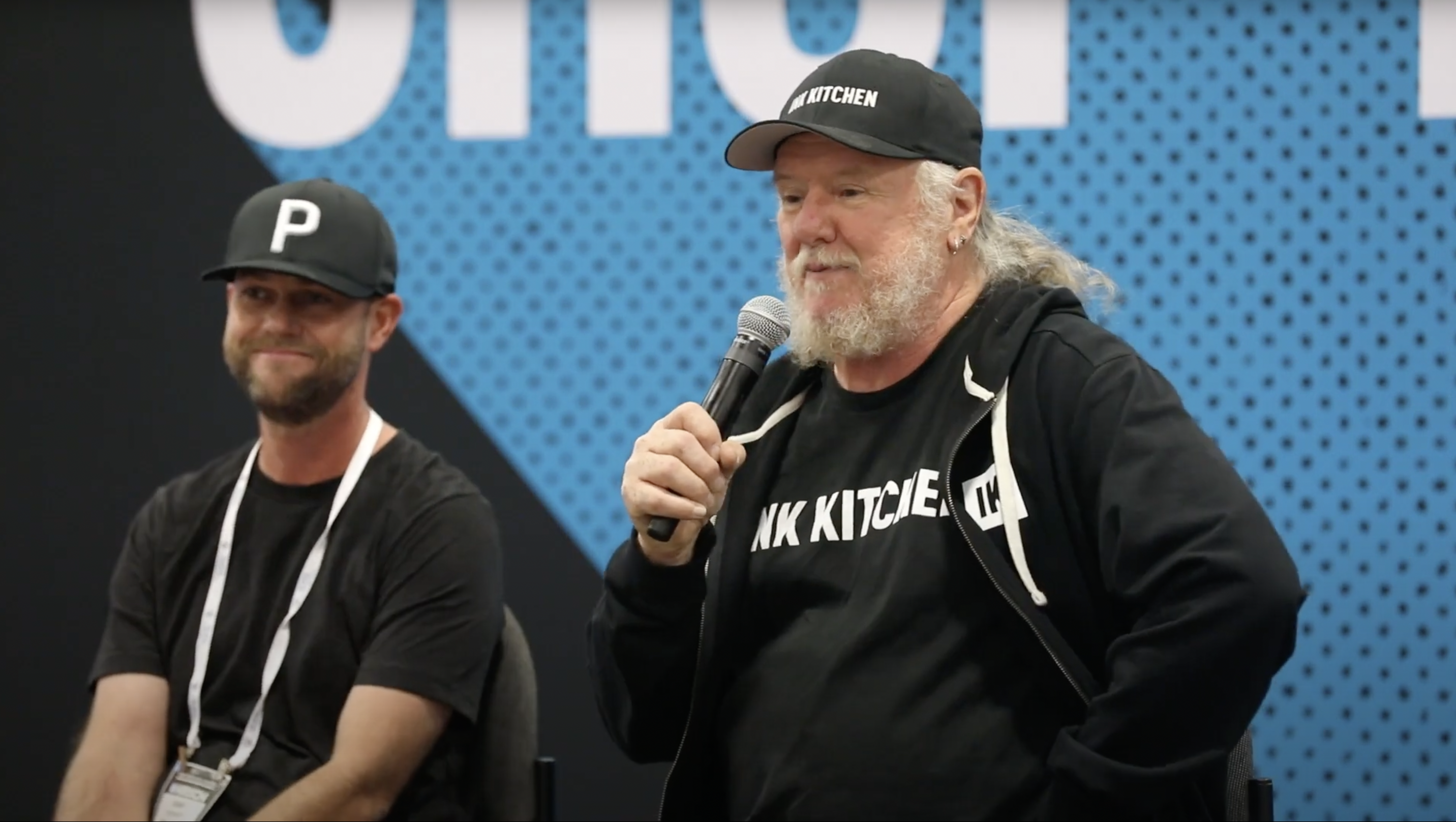 Garment decorators always are looking for ways to create special effects (SFX) with their screen-printed designs by offering specialty inks — puff, glitter, suede, shimmer, high-density and more — to keep their artwork on the cutting edge.
FULL STORY