Screen Printing vs. DTG: A 10-Round Print-Method Battle, Part 3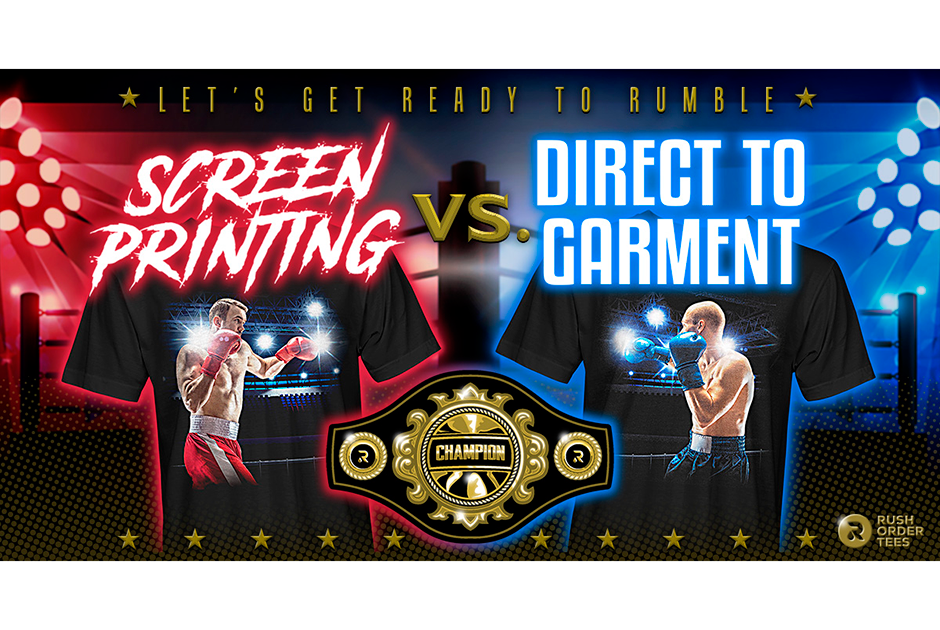 ---
Editor's Note: This is the second in a three-part series exploring the differences between screen printing and direct-to-garment printing. This comparison is subjective, and any judgment indicated is a matter of the author's preference.
Philadelphia-based Rush Order Tees decided to put decorating techniques to the test in an ultimate comparison between screen printing and direct-to-garment (DTG) printing. As digital printing has gained popularity and affordability in recent years, the company decided to take a look at the frequently asked question: How does DTG printing stack up against traditional screen printing?
In order to answer, both methods were compared in the form of a 10-round "fight." Each round covered a different facet of custom apparel printing, including vibrancy, color matching, durability, and more.
Rounds 7-10 are reviewed below.
Round Seven: Versatility
Versatility in this context is the ability to print on a variety of textiles, as well as a variety of garment styles, print locations, and placements.
Unfortunately for the DTG corner, their print method is somewhat limited in this category.
Textiles: Although DTG technology can now print on a wider variety of fabrics than ever before, the number one choice recommended is 100% cotton. Newer systems advertise printing on all kinds of fabrics, but they're not yet widely used in the industry.
Typically, DTG will have trouble with 50/50 blends, and not do well on polyester. It does not work on moisture wicking fabrics at all, without special treatment– and even then it's not recommended.
Also, the color of the fabric can be a problem, mostly due to something called dye migration. This happens when the garment dye bleeds into the ink and discolors the print. And digital printing on fluorescent colors is a no-go.
Screen printing, on the other hand, works on cotton, blends, polyester, canvas, denim, performance and moisture-wicking fabrics like rayon– you name it.
And of course, any color garment your heart desires. It's easier to tell you what fabrics you can't screen print on.
Garment styles: If you're only printing on the basics like T-shirts and hoodies, you can DTG all day long. But if you want to print on hats let's say, your best bet is switching to screen printing (or embroidery).
With DTG it really depends if the printer has a specialized platen (or if there's even one available) that fits the garment location you're trying to get printed. This is also true for screen printing, but there are many more platens available.
Print locations: Screen printing is also less limited when it comes to locations. As long as the printer can somehow position the garment on a platen, it can be screen printed. This goes for pant legs, hoods of hoodies, on-the-pocket prints, side prints, etc.
DTG, in certain cases, may not be able to reach a particular placement within the location to be printed. For example, if you wanted your logo to be placed 1″ from the collar of an upper back location, DTG may not be able to get that close to the seam.
Much of it depends on the capabilities of the print shop you're using. But the bottom line is that screen printing has much fewer restrictions.
Round Seven pick: Screen Printing
Round Eight: Consistency
While screen printing is leading once again, this has truly been a back and forth battle so far. DTG has a big opportunity to catch up this round because it's all about consistency.
Not many things in life are truly consistent, but when it comes to printing a run of T-shirts, we want them to look identical.
Screen printing can be consistent, but only if the job is set up perfectly and each item is printed exactly the same. Which is a tall order.
The screen-printing process has many variables. Screen tension, clogged mesh, ink viscosity, dot gain, flash dryer temperature, squeegee sharpness, squeegee pressure, squeegee angle, registration, placement. The list goes on and on.
Each one of these things can make a difference on their own. Combine them all, and chances are, there's going to be some variation.
Especially when printing halftones. The last print of the run is going to look a bit different than the first print. It's just how it goes with screen printing.
DTG, on the other hand, crushes it in the consistency department.
Because a machine processes a digital file and prints directly onto the shirt, there almost no variables to worry about, except maybe the placement of the garment onto the board or platen. Consistency is DTG's middle name.
Round Eight pick: Direct-To-Garment
Round Nine: Special Effects
Special effects printing is all about adding extra dimensions to a print.
From raised print to textures to shines and sparkles and glows, there's a specialty ink or additive that can do it.
The best part is you can combine many of these, for creations that are only limited by your imagination (and budget). Got any crazy ideas?
For example, using "puff" with "high density" and "suede" you can create a faux tackle-twill, mesh, or even embroidered look, complete with fake stitching.
Or, you can stack high-density until you get a print so raised it looks like an appliqué. This can be really cool for a small sleeve logo.
Examples of specialty inks and additives:
Water-based: Absorbs into fabric for a very lightweight and soft print.
Discharge: Chemically removes the dye from the pigment of the fabric.
Puff: This additive expands while being cured, for a soft, raised feel.
Fluorescent: Very bright neon colors, also known as "day glow".
Metallic: Popular ink for a shiny look. Typically in gold, silver, or copper.
Glitter: Contains glitter for a sparkly look, often combined with clear gel.
Glow-in-the-dark: Almost clear, light-activated ink that glows in the dark.
Suede: Similar to puff, but creates a soft and fuzzy texture to the surface.
High-density: Creates raised layers of rubber-like ink for a 3-dimensional print.
Soft Hand: Additive for reducing the thickness of ink for a softer feel.
Clear Gel:  A thick glossy coating that can be used in combination with others.
Shimmer: Creates a unique reflective, iridescent shine.
Crackle: Splits and cracks during curing for a naturally distressed look.
Cork: Similar to puff and suede, but the final product has a cork-like texture.
Plasticharge: Combines the best of Plastisol and discharge.
This is not a comprehensive list, only the most common. There's definitely some even crazier stuff out there. It must be a fun job to be the mad scientist who comes up with these inks and tests them.
Printing a specialty job can be a trial and error at first, but once you get it, successful results are super impressive and satisfying to achieve.
Screen printing specialty inks can elevate a T-shirt design like nothing else, and significantly increase the value for resale.
DTG has been making a few in-roads on the specialty ink front, but nothing that is widely available or as easy to accomplish. Back to training.
Round Nine pick: Screen Printing
Round 10: Popularity
As we start the final round, it's not looking good for Direct-to-Garment, which is down five rounds to four.
DTG has to win this round just to tie, or it needs a knockout– and I'm not even sure how that would work. Metaphorically speaking.
When it comes to popularity, everybody loves the champ. And the reasons why have been detailed in this blog post. Which hopefully you have read and not just skipped to the end.
You may be asking: why is popularity a factor?
If you're ordering shirts for your staff, or as promotional items, or especially for resale, it's always smart to go with what's popular– if you want to make sure your employees or fans are happy.
When people think T-shirts, they think screen printed.
Once DTG technology becomes more advanced, and more ubiquitous, to the point where most people don't know the difference– then popularity might no longer be a factor.  Until then, screen printing remains the fan favorite.
Round 10 pick: Screen Printing
SCREEN PRINTING: 6 rounds
DIRECT-TO-GARMENT: 4 rounds
Imri Merritt has over ten years in the screen-printing industry and works for Rush Order Tees.
---
Avoiding problems early on in your color separations will cascade down into gains at every step of the screen-printing process.
FULL STORY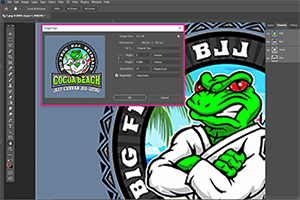 T-shirt screen-printing veterans Danny Gruninger, of Denver, Colorado, based DayBirds Printing, and Rick Roth, founder of New England's Mirror Image Screenprinting & Embroidery and Ink Kitchen, talk fast, efficient setups as part of the Shop Talk education series at the 2022 Impressions Expo in Fort Worth, Texas
FULL STORY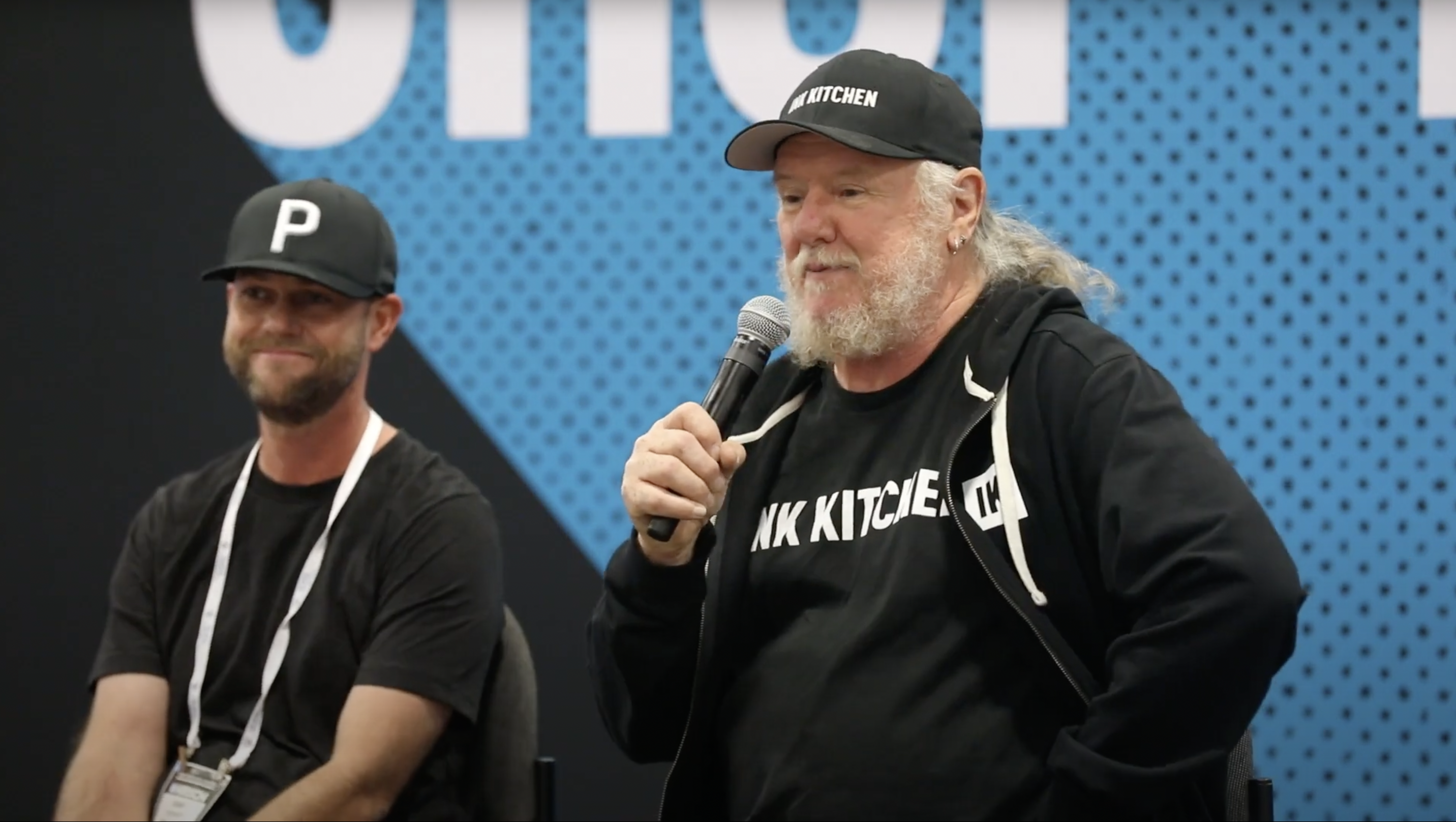 Garment decorators always are looking for ways to create special effects (SFX) with their screen-printed designs by offering specialty inks — puff, glitter, suede, shimmer, high-density and more — to keep their artwork on the cutting edge.
FULL STORY