Speeding Up Order Entry
In this first installment of The Workflow Series, learn how thorough, efficient order entry is key to your shop's success.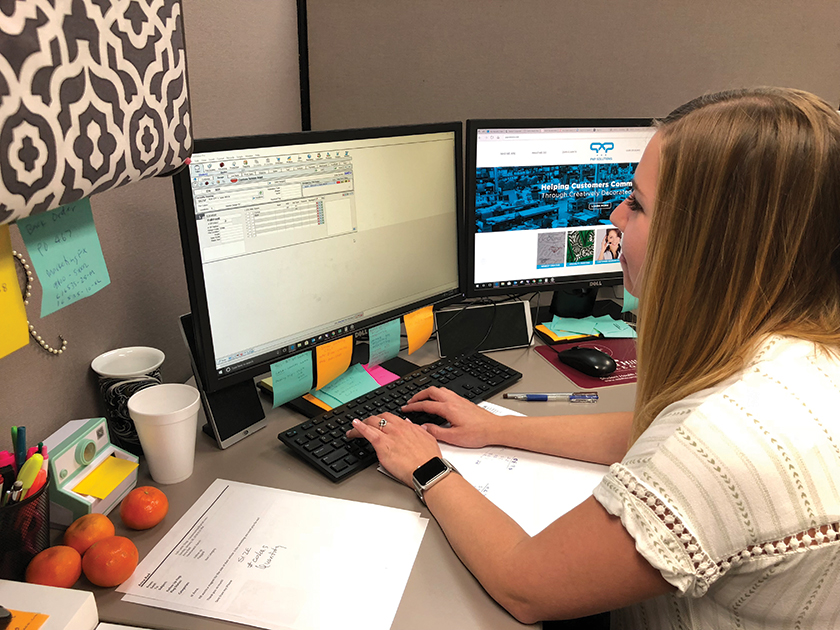 Input orders carefully. Extra time spent on the front end could save hours of wasted time on the back end. Photo courtesy of PXP Solutions.
---
Many of the roadblocks your shop may face stem from one vital step in the order fulfillment process: order entry.
Today, there is an increased demand for reducing turnaround times, and the key to meeting customer expectations is to develop a better order entry process. The quality of this step is crucial to the speed and success of every department in your shop to follow.
Training
One of the most overlooked aspects of order entry is the training component. You may hold instructional sessions on how to deliver customer service, but that should just be the starting point.
Start with the link between the information entered and the work that follows. These instructions are crucial. Information shouldn't be dumped into form fields, but entered in a way that will make sense to everyone.
The most critical piece of information on an order is the ship date. This is the date that the order must leave the building, and it should drive a greater sense of urgency than anything else on the form.
How is that ship date chosen? Is someone mindlessly selecting a date without considering capacity? If so, what are the consequences if you overbook your production? Accurate production scheduling stems from making good decisions at this stage, which requires thorough order entry training.
Another important aspect of training is teaching employees how to obtain quality order information. If an employee enters incomplete information into your system, it can create many problems later.
All too often, for example, art instructions look like this: "Do something cool. Logo to be blue, large on the shirt. Add a motorcycle underneath the headline 'Thunder Road.'" Notes like these leave a lot of unanswered questions, such as: "What is the definition of 'cool'? What Pantone color should be used for the blue? How many inches is 'large'? Can we use any font for 'Thunder Road?'"
Unanswered questions could mean many revisions before a customer approves the art. Dialing in the effort on the front end for quality art instructions pays off when you only have to design the image once.
Are you tracking your first-time art approval rate? If it is not above 85%, you need to spend some time rethinking this part of your order process.
Think Ahead
It's important to think ahead when gathering art information for a work order, but these details aren't the only aspect of the order that could impact others.
At the order entry stage, thorough information input for production, post-production, shipping and even invoicing matters as well.
Are you managing the expectations of your customers by discussing these in advance? For example, are you stating that the top of a full-front design is normally placed 3 inches down from the bottom of the collar? Or how designating commercial or residential addresses prevent chargebacks from freight carriers? Also, are you even taking the job if the customer is 60 days past due on his account?
Your order entry staff can't be made up of mindless zombies that only key in information. They need to be detectives looking for clues of challenges that could affect your shop down the line.
A work order is like a blueprint for constructing a house. Things go much smoother when the details are given. Speed increases when nobody has to stop and ask: "Hey, what does this mean?" Training your staff to provide accurate information is key.
Standardization
Another great trick is to standardize the language and processes you use in your shop. For language, there should only be one "right way" to refer to anything in your shop.
For example, how you name your image locations is important. Perhaps, a "full-front" location means that it is 12-inches wide and 3 inches below the bottom of the collar hem on an adult shirt. The art staff can then be trained to mock up the art this way and the production crew can set the jobs accordingly. Just using two standardized words — "full front" — sets all of this in motion.
Standardized language also applies to how you name your stock colors, turn-times for production, what machine the job will run on — virtually anything in your shop. Think each thing through and get input from you staff. Set the language, and then train everyone on what each thing means and how it works.
For standardizing processes, it's important to spend time in the work environment and talk to your crew. Where are the bottlenecks? What is the biggest challenge, especially downstream from the work.
For example, one standardized process could be that customer art files are saved to a special folder either on your server or in Dropbox. The folder could be designated by the work order number, which would allow for quick retrieval. This way, when an order comes in, the customer supplied art file is already pre-checked.A quick review determines that both the fonts were converted to outlines, and the PMS colors were labeled.
The work spent checking to see if the customer supplied art file is correct saves time later. If something is wrong, action can be taken before it shows up in the artist's queue. The idea behind standardizing processes is to prevent problems from happening.
Check Accuracy
The best thing you can do for your shop to increase your overall speed is to have accurate work orders, and the easiest way to achieve this is to use a checklist and probe for common mistakes.
Is everything spelled correctly? Did you specify a Saturday delivery by mistake? Are the quantities for each shirt size listed correctly?
Entering information incorrectly is forgivable; passing incorrect information onto others is not. Doing things once, but slower, is always faster than redoing the work — especially when other departments depend on the quality of the order entry process.
When you review a work order, try to imagine how another person might read the page. Are there any blank fields? What could someone misinterpret? In the past, what type of challenges have you faced when producing this type of order?
Eliminate those challenges at the order entry step, if you can. Your effort here will have a tremendous impact on other departments downstream. That's the first step in building more speed for your shop.
Marshall Atkinson, owner of Atkinson Consulting LLC, is a decorated-apparel industry production and efficiency expert who focuses on operational efficiency, continuous improvement, workflow strategy, business planning and more. For more information or to comment on this article, email Marshall at marshall@marshallatkinson.com.
Quick Tip
Want a better and more accurate production schedule? Spend some quality time training your front office staff with tasks in production. This means they work for a day or two in receiving, checking-in product. Have them pull and stage jobs by equipment. Show them how the information they put into your system actually works out on the production floor.
---
The Biggest Challenge
One of the most significant challenges of order entry is quoting orders. Let's say four members of your staff can either quote or put orders in the system. Will all four individuals quote the job and arrive at the same final price?
Here's where quality and speed can come into play. There needs to be only one way someone can build a price.
Use a standardized pricing matrix. If you need to add items to the quote, such as rush fees, art charges or upcharges, do so correctly. If you can, lump in costs together. For example, when screen-printing polyester performance shirts, instead of adding a fee for performance ink, increase the mark-up on the garment instead.
Make quoting orders simple and easy to understand.
---
Avoiding problems early on in your color separations will cascade down into gains at every step of the screen-printing process.
FULL STORY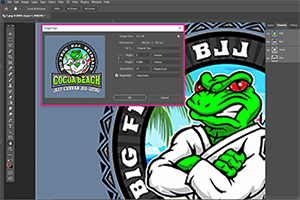 T-shirt screen-printing veterans Danny Gruninger, of Denver, Colorado, based DayBirds Printing, and Rick Roth, founder of New England's Mirror Image Screenprinting & Embroidery and Ink Kitchen, talk fast, efficient setups as part of the Shop Talk education series at the 2022 Impressions Expo in Fort Worth, Texas
FULL STORY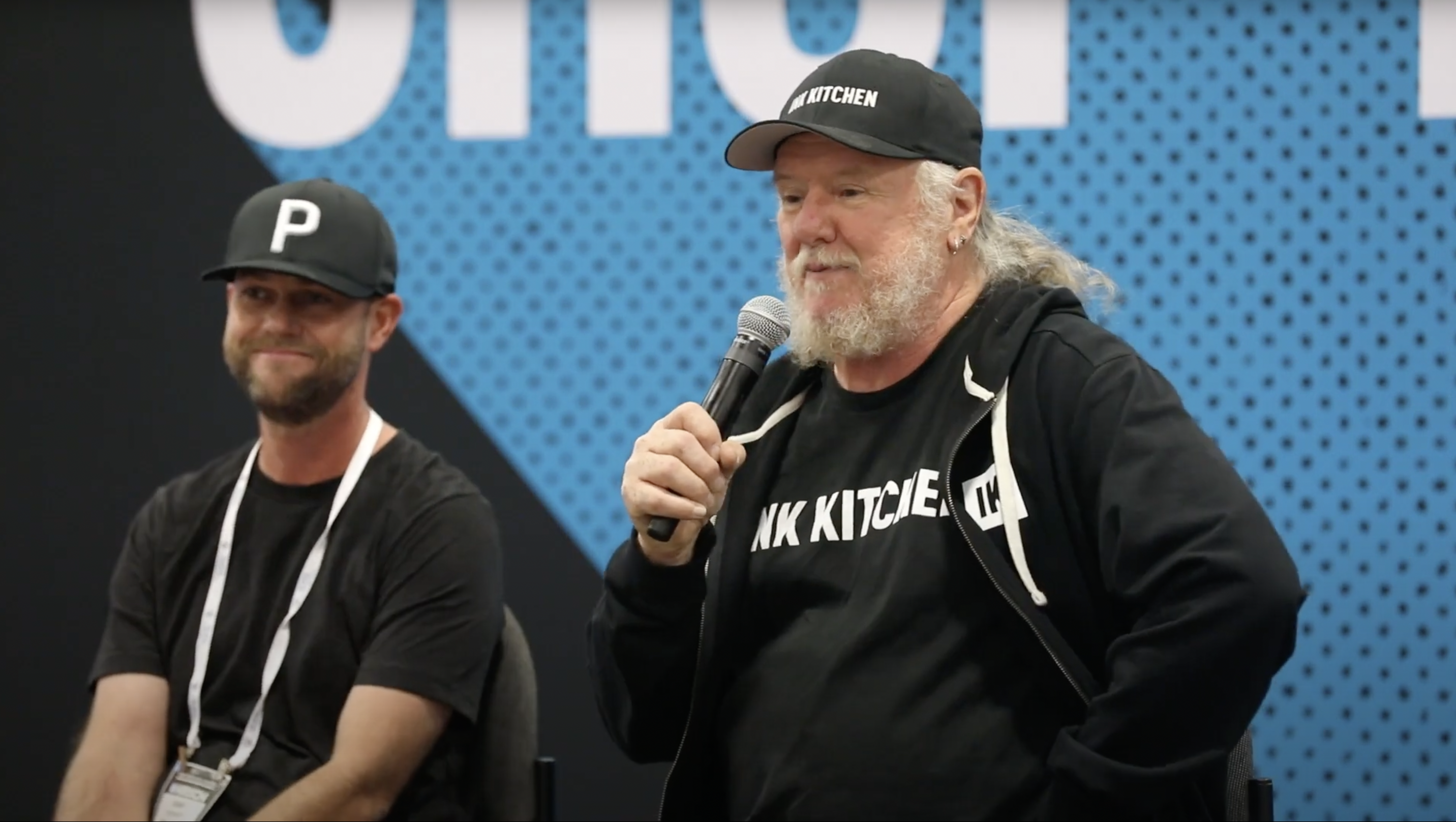 Garment decorators always are looking for ways to create special effects (SFX) with their screen-printed designs by offering specialty inks — puff, glitter, suede, shimmer, high-density and more — to keep their artwork on the cutting edge.
FULL STORY