Today's Textile Ink Options
Join us in exploring plastisol ink alternatives in the PVC- and phthalate-free arenas.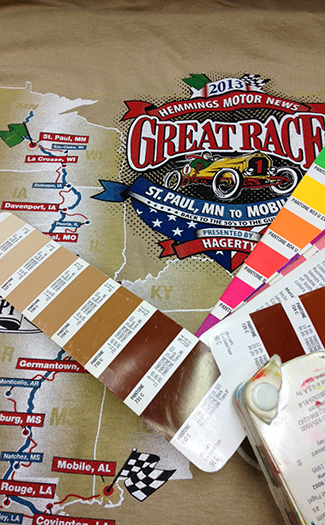 It is becoming more common for retailers to ask for phthalate- and PVC-free inks. These Pantone ink colors requested by the customer are being checked against a 12-color, spot-color job printed for the 2013 Great Race. Photo courtesy of Stahls' DFC.
---
Textile screen printing inks have come full circle when you consider that water-based inks were among the first ink systems used to print garments. Now, some printers are switching from plastisol inks, the longstanding standard for screen printing, back to water-based systems. It wasn't until the late 1950s that screen printers in our industry started using PVC-based plastisol inks, which most industry veterans still love to use.
The reasons for the popularity of plastisol include its user-friendly qualities, low cost and long shelf life, making it hard to switch to any other ink system. But in today's market, it is becoming more common for retailers to ask for phthalate- and PVC-free inks, so it is time to explore all the options.
 
The good news is that many of these ink systems are available on the market, but the downside includes the learning curve required to use them and higher ink costs. We've been spoiled by using plastisols that won't dry in the screen, and a general rule of thumb when selecting any ink system is for the ink to stay open in the screen for an eight-hour production cycle. Keep in mind that some shops leave plastisol in the screens for weeks at a time while printing long production runs, and that type of ink performance is hard to justify breaking away from.
However, it's time to at least consider adding some newer inks to your shop, if not undergo a complete overhaul.
Below are some regulatory agencies in the United States and worldwide that also support the need to explore new textile ink systems.
Regulatory Agencies
and Safety Standards
• OSHA Hazard Communication Standard (29CFR 1910.1200) was enacted to establish a globally harmonized system (GHS) of classification and labeling of chemicals to improve safety and the health of American workers.
• Oeko-Tex Standard 100 was introduced in the early 1990s as a response to consumers' needs regarding textile decoration safety concerns and provide a uniform testing system worldwide. For more information, visit oeko-tex.com.
• REACH is the regulation on Registration, Evaluation, Authorization, and Restriction of Chemicals that outlines European Union (EU) requirements regarding the control of chemicals. It covers everything from minute particles the eye cannot see to any printing method. Under this regulation, many chemicals will be withdrawn from the market so ink formulators and other product manufacturers will have to change, and the associated costs will be passed down the supply chain. For more information on REACH, visit fespa.com/planet-friendly.html.
• The Consumer Product Safety Improvement Act (CPSIA) outlines the mandate that products for children ages 12 and under be decorated with inks with a lead content less than 100 parts per million. Regarding products for toddlers ages 3 and under, there are six banned phthalates, including DEHP, DBP and BBP — which are permanently banned — and DINP, DIDP and DnOP, which are banned on an interim basis. For more information on CPSIA, visit sgia.org.
TEXTILE INK OPTIONS
Phthalate-Free Plastisol Ink: The majority of garment printers in the United States currently use PVC-based, phthalate-free plastisol ink. Most ink manufacturers offer this ink system because it conforms with CPSIA guidelines and meets the 100 parts-per-million lead levels as outlined above. Unless we see a major industry shift away from PVC-based ink, these current phthalate-free plastisols will remain the most popular type of textile ink for garment decorators for many years to come.
"If screen printers were given the choice, they would all stay with plastisol," says Ray Smith, senior print applications specialist, Wilflex/PolyOne, Kennesaw, Ga. "But the choice is not always theirs to make now that major sporting goods retailers, [for example], are requesting PVC-free inks."
Rick Davis, southeastern regional sales manager, Triangle Ink Co., Wallington, N.J., agrees. "The textile screen printers that are utilizing PVC-free inks are typically those printing for the large athletic companies who are now demanding a PVC-free product," he says. "A majority of the industry still is printing with conventional plastisol inks. There has, however, been a strong interest and drive toward high-opacity water-based systems, as well as discharge inks. This is for printers looking for a softer hand, as well as PVC-free alternative. It is this demand from the printing community that has the ink manufacturing companies looking into alternative technologies."

For printers currently using phthalate-free inks in an attempt to comply with CPSIA standards, it is important to understand the printed garments can become cross-contaminated. This can happen from exposure to flood bars, squeegees and printing equipment that came into contact with inks containing phthalates. Cross-contamination from phthalates also can result from the type of screen emulsion or other ink additives used. Thorough cleaning of all printing equipment is vital. Also, check for phthalates in all other chemicals or additives that come into contact with the ink or garment.
In addition, check old ink inventory to ensure it does not contain lead or phthalates in the formula. Each bucket of ink should have a lot number on the side, which you can reference when checking with the manufacturer. When in doubt, dispose of the ink. (Editor's Note: Always use proper ink-disposal methods; for more information, visit inkwastedisposal.com.)
What other issues do screen printers face besides finding new ink alternatives?
"One of the big hurdles screen printers struggle with is printing on many polyester fabrics that are popular today," says Brian Lessard, print development manager, Rutland Plastic Technologies, Pineville, N.C. "Rutland offers two great solutions for printing on stretch poly fabrics." In addition to Rutland's offerings, most ink manufacturers provide great solutions for printing on these fabrics and these products are PVC-based, and phthalate- and lead-free.
Acrylic Textile Ink: This ink is available in both water- and oil-based systems. The great thing about oil-based acrylic ink is that it prints similar to standard plastisol with minimal drying in the screen. Also, the ink's feel is similar to that of gloss plastisol. Water-based acrylic ink has a softer hand; however, it is prone to dry more quickly in the screen if not properly mixed. It's best to print water-based acrylics in high-humidity conditions and keep a spritzer bottle of water close by in case you need to spray a clogged area in the screen mesh.
The gel temperature for most acrylic inks (when flashing between colors) is in the 250˚F range and the curing temperature is 350˚F in a conveyor textile oven. (Editor's Note: Always consult your ink supplier for application instructions for the inks you are using.)

Water-Based Ink: Water-based pigment ink systems have been used for decades in our industry and still are widely used today. In fact, Europe and Asia have many more years of experience printing with water-based ink compared to U.S. screen printers. PVC-based plastisols were invented in the U.S. and have been the ink of choice since their introduction.
Printing with water-based ink requires screen printers to think differently and understand how to properly mix reducers, retarders and extenders to ensure a trouble-free experience. In addition, water-resistant photo emulsions must be used on the screens to avoid premature stencil breakdown during production runs.
It's also important to control the room temperature and humidity levels when using water-based ink to keep it from drying in the screen. After printing, the screens must be washed out immediately and not left sitting around the shop.
"The largest percentage of textile screen printers still use PVC-based, phthalate-free
plastisols, but we have a good number of screen printers that have switched to [our] water-based inks when they have a customer that requests an alternative to PVC inks," Smith says.
Silicone Ink: This is another PVC alternative that is gaining some attention in our industry, as witnessed at the 2011 Imprinted Sportswear Shows (ISS) event in Long Beach, Calif. There, Lon Winters, owner of Graphic Elephants, Denver, printed with Dow Corning's silicone ink. When this ink type was introduced at the ISS event, many people thought it would immediately replace plastisol ink overnight. However, this has not been the case for a number of reasons.
First, screen printers are not required to discontinue using PVC-based plastisols, so they won't change ink systems just for the sake of change. Other factors include a higher ink price and the extra effort required to mix catalysts, extenders and reducers.
But on a positive note, silicone ink is very safe for printing on children's wear and other products when you consider that surgical gloves and baby-feeding nipples are made from silicone. In addition to being a safe alternative to PVC, silicone ink also exhibits excellent opacity on dark colors and has superior bleed resistance on polyester garments that are prone to dye migration. Silicone ink also has great elasticity that is ideal for printing on stretchy polyester fabrics. Keep an eye on silicone ink systems as they gain more popularity in our industry.
Although I don't see PVC-based ink disappearing anytime soon, it's important for progressive screen printers to start testing and understanding all the available PVC alternative in order to stay on the cutting edge.
James Ortolani is the North American Ink R&D Manager for Stahls' DFC, located in Masontown Pa.. For more information or to comment on this article, email James at james.ortolani@stahlsdfc.com.
 
---
Avoiding problems early on in your color separations will cascade down into gains at every step of the screen-printing process.
FULL STORY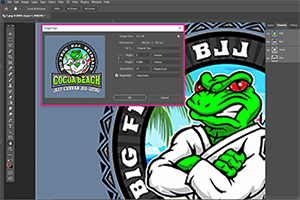 T-shirt screen-printing veterans Danny Gruninger, of Denver, Colorado, based DayBirds Printing, and Rick Roth, founder of New England's Mirror Image Screenprinting & Embroidery and Ink Kitchen, talk fast, efficient setups as part of the Shop Talk education series at the 2022 Impressions Expo in Fort Worth, Texas
FULL STORY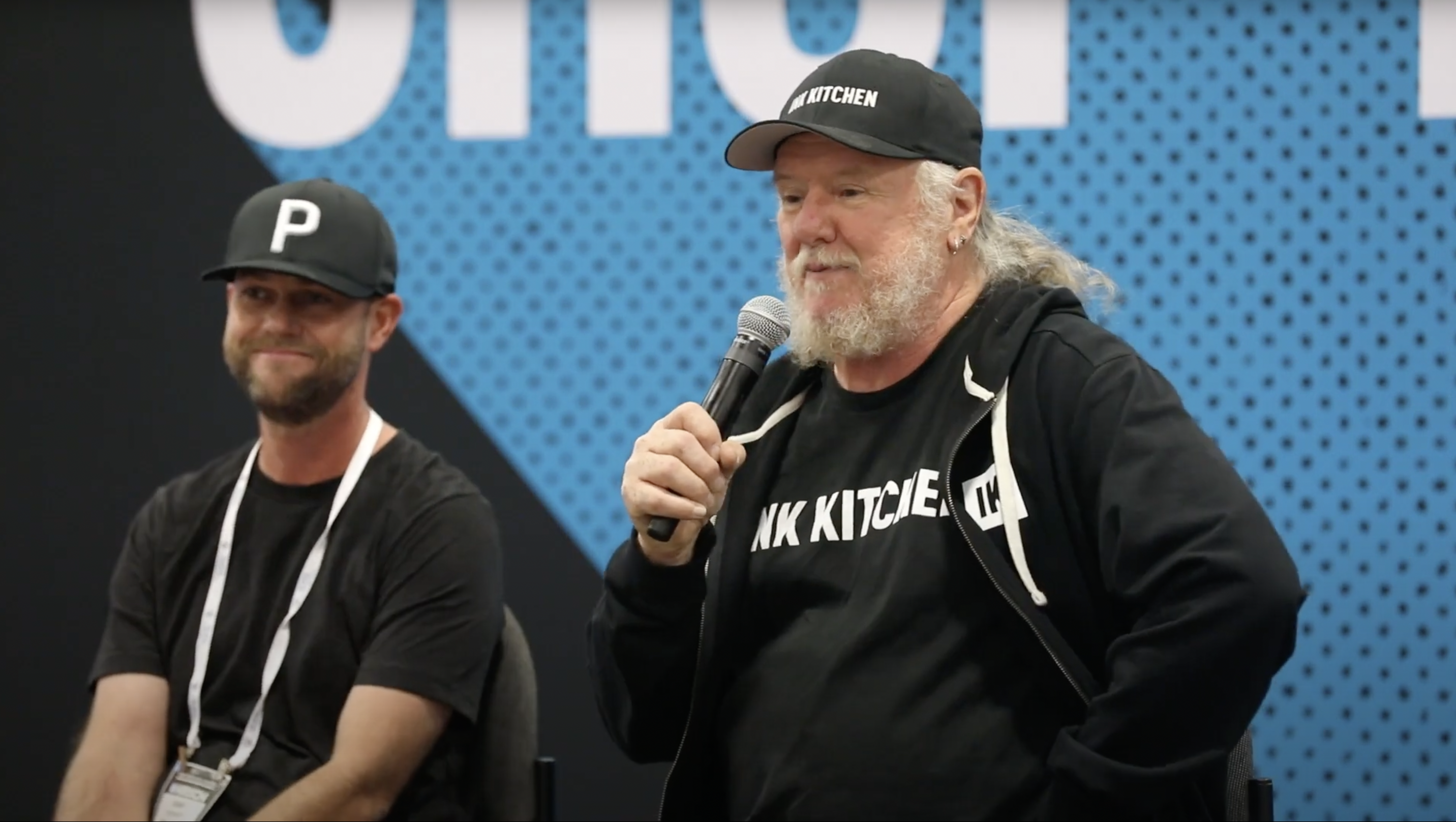 Garment decorators always are looking for ways to create special effects (SFX) with their screen-printed designs by offering specialty inks — puff, glitter, suede, shimmer, high-density and more — to keep their artwork on the cutting edge.
FULL STORY