Update: Digital CTS Imaging Systems
Computer-to-screen technology offers increased speed, better detailing, the elimination of films and more for medium and large screen print shops.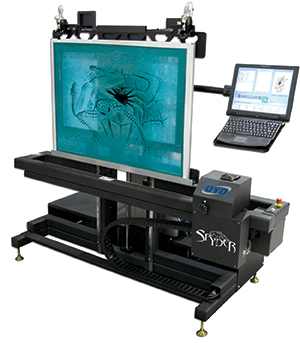 One advantage of using a CTS system is when an image is output directly onto the emulsion (on the screen), better detail can be achieved since there is no clear carrier film to diffuse the light during screen exposure process. Photo: Exile Technologies
---
We've come a long way since the days of hand-cut films and film positives made in the darkroom for screen making. My first introduction to a computer-to-screen (CTS) system dates back to the 1980s when my friend and colleague, Geoff McCue, called me and said, "I coated a screen, cut out an 81/2" x 111/2" section of the coated mesh and ran this through my inkjet printer." My reply was "OK, why did you do that?" He explained, "If I can print an image directly on this emulsion-coated piece of mesh, then it should be possible to image an emulsion-coated stretched screen on a static frame."
Little did I know that McCue was breaking new ground and on his way to inventing the first CTS imaging system. Later, he took his idea to a major manufacturer in the computer graphics industry and the technology that we know today as CTS imaging was born.(Editor's Note: Some printers refer to this as the direct-to-screen process (DTS), but the most accepted industry terminology is CTS.)
BENEFITS OF CTS IMAGING
There are many reasons why the CTS imaging method is the best way to process screens for most medium-sized to large screen printing shops. Some of these reasons include:
Improved Detail: When an image is output directly onto the emulsion (on the screen), better detail can be achieved since there is no clear carrier film to diffuse light during screen exposure process. That means fine lines and halftones in the 2% tonal range can be exposed with less chance of overexposing these design elements.
Improved Registration: The CTS screen imaging method also eliminates the need to use a T-square to perform the time-consuming process of measuring where to position an image on the screen. In addition, if a pin registration system is used, a CTS system will eliminate to need to tape the film positive to clear carrier sheets. With the CTS system, multiple color separations are imaged onto separate screens in relationship to each other within .001 tolerances, saving valuable set-up time when registering the screens on the press.
No Film Needed: You'll never need to purchase clear film again, a cost savings that will help pay for the CTS system over time. At about $1 per sheet for film, the savings quickly add up. Eliminating the use of polyester film also makes the print shop "greener" because no one has to discard thousands of polyester film sheets.
Digital Art File Storage: CTS systems eliminate the need to store hundreds (or thousands) of film positives for customers. Simply store the art files on the computer and easily retrieve them when the customer reorders. Also, there's no more cleaning films and repairing bent, scratched or damaged films that cause pinholes and exposure issues.
Labor Savings: Lastly, one of the biggest benefits to using a CTS system is the labor dollars saved from not paying someone to output and handle the films, remove tape and file them after the job has been printed.
TYPES OF CTS INKS
The main types of ink used with today's CTS ink systems include wax, water-based inkjet toner and specially formulated
ultraviolet (UV) block inks.
Wax: The heated wax inkjet technology is a popular method for printing a high-density image directly onto an emulsion-coated screen. Some CTS systems that image with wax reportedly can print 1,200 dpi, allowing halftone frequencies of up to 110 lpi. Some units also include full-featured raster image processor (RIP) software.
Water-Based Inkjet: Some CTS systems use Epson piezo inkjet heads with proprietary inks that have special UV blockers added to increase the performance during the screen exposure stage. Manufacturers of the inkjet systems report that their CTS systems print 720 dpi and run on standard PC software. They also use a standard USB-2 port connection from the computer to the CST machine.
Ricoh Print-Head Technology: This also is being used by some CTS manufacturers, allowing screens to be imaged with halftones up to an 85-line dot count with excellent resolution and ink deposit control. Black dye, with special UV inhibitors, ensures a dark, crisp image is printed to the screen surface.
There are more than a dozen CTS system manufacturers, but I recommend staying with well-known industry brands and purchasing a unit from a local equipment supplier that will give you good service. The track record is good for CTS systems, with very little down time. But, remember that it's a machine, which means it eventually will break down. To eliminate downtime due to equipment failure, most high-volume shops own two or more CTS units and the mid-sized shops keep a back-up laser printer to print vellums if their CTS machines need repair. However, it's hard to transition back to using films after switching to a CTS system, since exposure times change, fine-line resolution is not as good and a whole host of other issues occurs.
SCREEN EXPOSURE BENEFITS
The original motive with CTS systems was to remove the cumbersome step of creating film positives, as well as the necessity of handling them multiple times during the process. The next issue in dealing with film positives is determining the optimal exposure time due to exposing through the film and the exposure unit glass.
With CTS systems, all of these issues go away since there is no film; with CTS-compatible exposure units there is no glass through which to expose. Another bonus is that the costs associated with vacuum pumps, as well as rubber blankets that wear out, simply disappear.
Since a vacuum hold-down blanket isn't needed when exposing CTS-imaged screens, it's now possible to expose several screens at once by positioning as many screens as possible on the exposure unit. As mentioned above, the glass is removed from the exposure unit and a screen rack holds multiple screens over the light source.
Some shops using CTS imaging units hang multiple screens on the screen room wall and expose them at the same time with a 6k metal halide light on wheels. (Editor's Note: Be sure workers stay out of this "exposure range" to protect them from harmful UV light waves.)
One of the most recent breakthroughs in CTS screen imaging systems has been the elimination of printing toner (wax, inkjet, or other) on the screen surface. With CTS digital light imaging, no toner is used. Instead, a digital mirror device (DMD) modulates an ultra high-power UV light source (with digital image data) using up to 2 million micro mirrors. The DMD moves over the screen, exposing the image as it travels. Each mirror represents a pixel of information, allowing resolution of up to 2,500 dpi.
DMD is considered a top-of-the-line light modulator for direct screen imaging and is manufactured by Texas Instruments. The downside of the CTS light imaging systems is the cost, which is in the low- to mid-six-figure-dollar range.
Although CTS systems have been on the market for decades, there has been a recent surge in the past five years to widely embrace the technology. Now, CTS systems are found in medium- to large-sized screen printing shops all across the country. I believe this shift is a combination of several factors, including labor savings, supply savings, increased speed, ecological benefits and overall technology improvements.
RECAP
Adding a CTS imaging system eliminates the need to buy a film-output device, films, and saves time spent on labor to print the films. It also reduces prepress steps, including printing films; taping films to screens or carrier sheets for pin registering; cleaning films and exposure glass to eliminate pinholes; and storing films and removing tape.
Also, be looking for a new on-board "exposure feature" that will be on select CTS imaging systems moving forward. With this new add-on, the screen will come off the CTS unit imaged, exposed and ready to go directly to the washout booth for image washout and processing. McCue's experiment with a piece of emulsion-coated mesh and a desktop inkjet printer has come a long way — and the future of CTS screen imaging looks very promising!

James Ortolani has more than 30 years experience in the decorated apparel industry, specializing in hands-on direct screen printing and heat transfer production. He has worked for main industry suppliers, and currently serves as R&D project manager for Stahls' DFC. For more information or to comment on this article, email James at james.ortolani@stahlsdfc.com.
---
Avoiding problems early on in your color separations will cascade down into gains at every step of the screen-printing process.
FULL STORY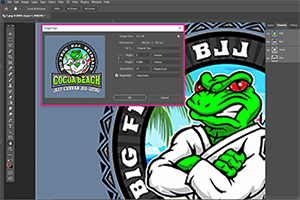 T-shirt screen-printing veterans Danny Gruninger, of Denver, Colorado, based DayBirds Printing, and Rick Roth, founder of New England's Mirror Image Screenprinting & Embroidery and Ink Kitchen, talk fast, efficient setups as part of the Shop Talk education series at the 2022 Impressions Expo in Fort Worth, Texas
FULL STORY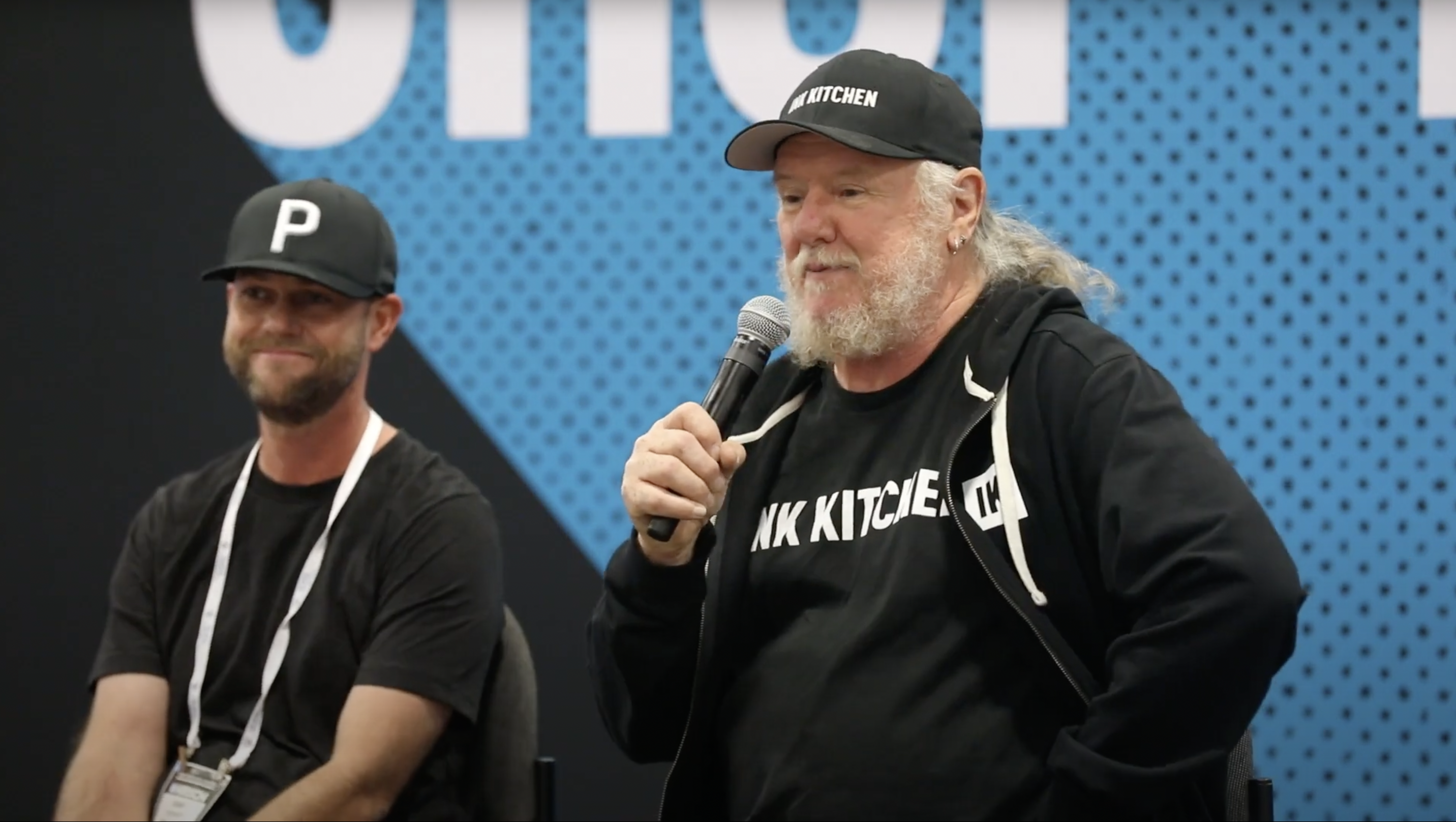 Garment decorators always are looking for ways to create special effects (SFX) with their screen-printed designs by offering specialty inks — puff, glitter, suede, shimmer, high-density and more — to keep their artwork on the cutting edge.
FULL STORY