What's New in CTS Technology?
A new year means manufacturers are debuting cutting-edge computer-to-screen products. Here's the latest being offered in the marketplace.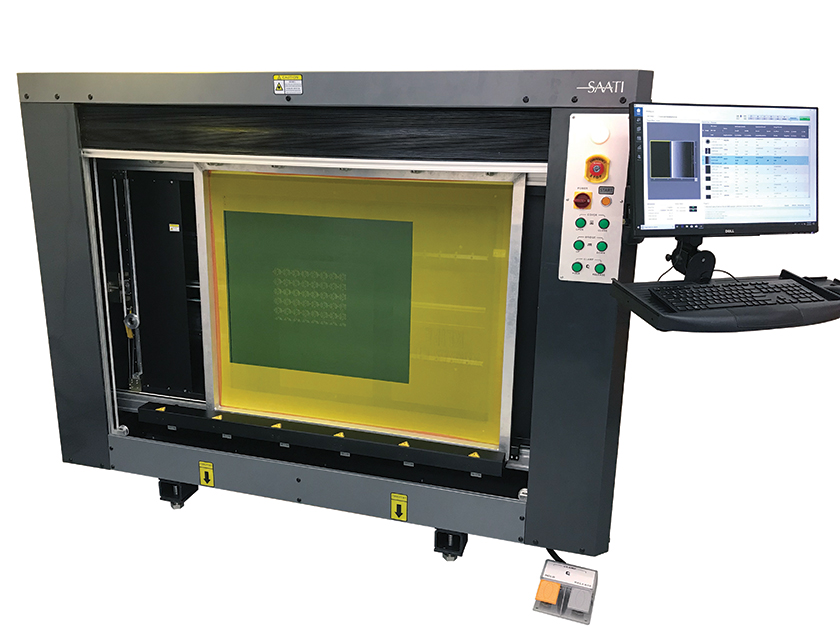 SAATI's LTS 6080-VF CTS system incorporates lasers to image and expose emulsion simultaneously. Image provided by SAATI.
---
The technology for imaging directly onto screen mesh for screen-printing production has been around for a while now. Industry experts, including manufacturers and decorators, unanimously agree that computer-to-screen (CTS) technology provides a better way to image a screen than older methods, such as film or vellum.
Why?
For starters, there's an inherent quality jump when you image the screen directly onto the emulsion; any interference or challenges derived from using film or vellum are eliminated.
CTS manufacturers Douthitt Corp., EXILE Technologies, Lawson Screen & Digital Products, The M&R Cos. and SAATI are known for solutions when it comes to screen imaging. Some of these companies have completely new products, while others have updated their systems.
The following is a summary of recently released options available in the marketplace when it comes to CTS technology and solutions.
Douthitt Upgrades Software
Tried-and-true Douthitt has upgraded its software for the its WAX CTS30 and CTS52 models, which are designed for shops that handle larger images, transfers or industrial printing. The systems use water-soluble wax instead of ink toner, yielding superior results.
The software upgrade includes bar-coding that syncs with industry software from Printavo, providing better preview options; a new, easy-to-use interface and three-point LED light that indicates when registration points are set.
As on-press registration is critical, Douthitt has improved register points to exactly meet the positive registration unit (PRU) system, and also can be adjusted for any system on the market.
The Douthitt CTS systems give screen printers the latitude to choose the best emulsion that works for their shops. Because of the wax system's opacity, choices are not limited and a special coating process is not needed; shops can use what works best for their environmental conditions and workflow.
Additionally, all Douthitt equipment and components are manufactured in Detroit.
EXILE Debuts Spyder III
Houston-based EXILE Technologies debuted its Spyder III CTS system and V-Lux inline exposure unit at the 2020 Impressions Expo, held last month in Long Beach, California.
This upgrade has double the resolution, which provides sharper detail, finer halftones and smoother gradients than its predecessor system. The Spyder III's industrial print head has more than three times the number of jets than older models, which improves throughput and quality.
In addition, the dots produced by this unique print head are one-third the size of the previous Spyder systems, allowing the newest machine to print smaller font sizes, and more detailed vector and bitmap graphics.
The Spyder III system also uses a water-soluble wax system and supports frame sizes up to 30″ x 40″. It is manufactured in the United States.
Lawson Releases Express-Jet
Lawson Screen and Digital Products, St. Louis, also released a new system, the Express-Jet CTS v5, at the 2020 Long Beach Impressions Expo.
This system features new Ricoh Gen V printhead technology and can print halftones up to 85 lpi. Interestingly, this model allows the screen to remain in place as it is imaged with a moving gantry. The system accommodates screen sizes up to 25″ x 36″. Lawson touts an average cost per screen between 3 cents and 8 cents.
For smaller shops, this unit may be ideal, as it fits through a 32-inch door and is a less-expensive model — by one-third, in many cases — than other CTS units on the market. It ships fully assembled and works with all three-point registration systems for nearly instant setups.
M&R Goes Large-Format
Roselle, Illinois-based M&R Cos. has developed a large-format version of its acclaimed i-Image CTS system. This new variant, i-Image KX, is built to handle frames up to 33″ x 48″.
Like its smaller M&R counterparts, the i-Image KX uses a shuttling gantry design that moves a single printhead to image a screen with water-based, ultraviolet-blocking ink. After imaging, the i-Image KX scans the screen with a high-output UV LED array to expose the emulsion. Screens then can be taken directly to washout.
This model can image smaller screens 15% faster, according to the company, and is completely compatible with the M&R Tri-Sync system.
SAATI Leverages Lasers
It's probably ideal that SAATI, a global company with a United States location in Fountain Inn, South Carolina, designs screen-imaging equipment. After all, the company also produces mesh and emulsion. While other industry machines use water-soluble consumables with wax or ink toner to image screens, SAATI has taken a different approach by incorporating lasers to image and expose emulsion simultaneously.
The new SAATI LTS 6080-VF CTS system is built to handle screens up to 55″ x 65″. Because the five dpi settings can be adjusted, the unit can offer choices between the highest resolution or the shortest cycle. The resolution settings are 847, 1,016, 1,270, 1,693, and an outstanding 2,540 for the most demanding industrial applications.
As a bonus, when not exposing larger screens, the unit can image two screens simultaneously.
Marshall Atkinson, owner of Atkinson Consulting LLC, is a decorated-apparel industry production and efficiency expert who focuses on operational efficiency; continuous improvement and workflow strategy; business planning; employee motivation; management; and sustainability. He also co-founded a decorated-apparel industry sales and marketing education company called Shirt Lab. For more information or to comment on this article, email Marshall at marshall@marshallatkinson.com.
---
Avoiding problems early on in your color separations will cascade down into gains at every step of the screen-printing process.
FULL STORY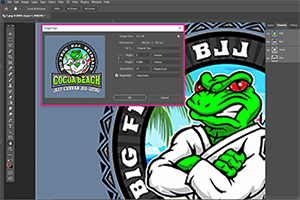 T-shirt screen-printing veterans Danny Gruninger, of Denver, Colorado, based DayBirds Printing, and Rick Roth, founder of New England's Mirror Image Screenprinting & Embroidery and Ink Kitchen, talk fast, efficient setups as part of the Shop Talk education series at the 2022 Impressions Expo in Fort Worth, Texas
FULL STORY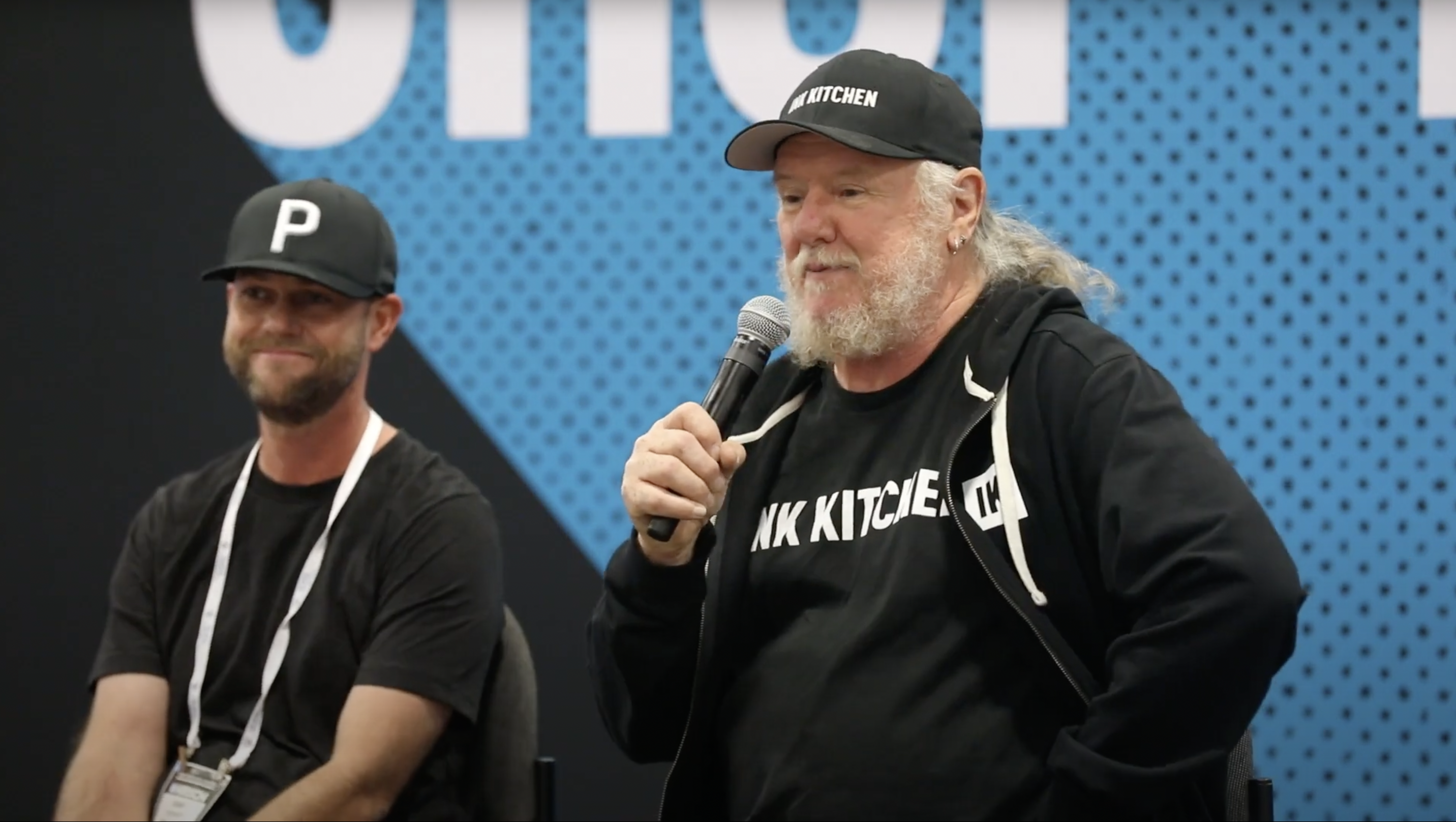 Garment decorators always are looking for ways to create special effects (SFX) with their screen-printed designs by offering specialty inks — puff, glitter, suede, shimmer, high-density and more — to keep their artwork on the cutting edge.
FULL STORY